Internal spring triggers contact on external force.
Can be used in variety of vibration detection projects. The two contacts of sensor are not connected in idle condition. When external force is acted upon either my movement or vibration, the sensor's two contact pin are closed and contact is made between the two pins. When the force is removed the sensor terminals returns back to open contacts.
Specifications
Maximum working voltage (Vmax) : 12V
Maximum current (Imax) : less than 5mA
Open circuit resistance: more than 10 Mega Ohms
On resistance: less than 5 ohms
Ambient temperature: less than 100℃.
Life expectancy: 5,00,000 times
Suitable for small current control circuit of trigger.
Response time: 2ms
Sensor is in airtight seal
Gold Plated Contacts
Applications
Anti-theft alarm
Smart Home systems
Automotive devices
Home electrical devices
Air conditon / Air warm blower fall prevention protect switches
Communication devices
Electronic Scale
Instruments / Toys
Meters / Lamps
Digital Shoes
Sport Equipments
Details
Sensor is made up of a small spring mechanism, which makes the contact ON when the applied vibration force is at above a certain threshold. It has two legs coming out of it. Normally the two terminal are insulated by a resistance value more than 10MOhm. When someone applies vibratory force on the switch, spring inside the switch vibrates and makes a momentary short circuit between the two terminals.
Testing with LED
Make a simple LED circuit to verify the working of Vibration sensors. Use Vibration Switch as an on-off switch. When vibration of above a threshold is present on the sensor, the LED glows while when there is no applied vibration LED does not glow.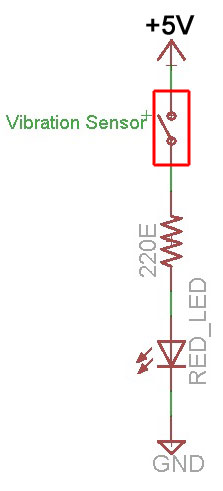 Testing with scope
Testing with oscilloscope is simple. Just give external voltage through vibration sensor. Then the sensor is tapped, it outputs high pules as shown below on actual scope output. There are multiple pulses due to internal spring vibration on tapping.