4 Channel Capacitive Touch Module - TTP224
Simple to use, Accurate, Output can be Active High or Low. Output mode can be ON/OFF(Toggle) or ON till touch(Momentary).
Quantity Pricing
Quantity :
Price (Discount%)
This board is a quick demo board for capacitive touch sensing IC TTP224. You can use it to detect and switch on external units using external relay.
Features
Simple to Use, Auto Calibration
Output Status Indicator LED
Output can configured be Active High or Low
Output Mode can be configured to Toggle or Momentary
Easy to replace mechanical key outputs
Output can be directly connected to Microcontroller's Input pins
Specification
Operating Voltage: 2V-5.5V
Startup Calibration Delay: 0.5 Sec
PCB Size: 35x29mm
Board Schematic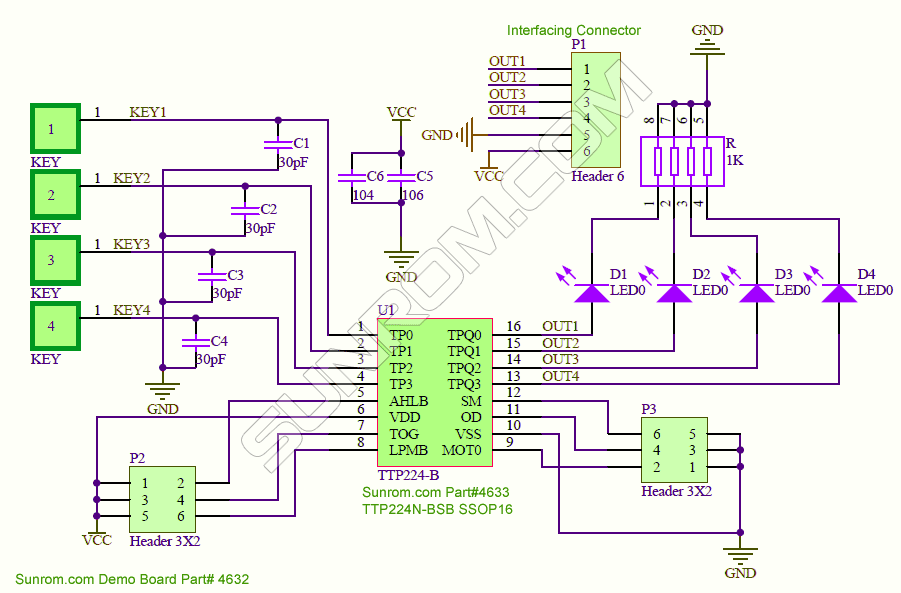 Commercial Solid State solution using TTP224 IC to replace Dome, Membrane & Mechanical Keypads