The very low line capacitance secures a high level of signal integrity without compromising in protecting sensitive chips against the most stringently characterized ESD strikes.
ESD Suppressors, ESD Protection Low Cap, 2 Ch, 5V, 3.5pF
Complies with the following ESD/Surge standards:
IEC 61000-4-2 level 4: – 15 kV (air discharge)
8 kV (contact discharge)
Features
2 data-line protection
Protects VBUS
Very low capacitance: 3.5 pF max.
Very low leakage current: 150 nA max.
SOT23-6L package
RoHS compliant
Benefits
Very low capacitance between lines to GND for optimized data integrity and speed
Low PCB space consumption: 9 mm² max for SOT23-6L
Enhanced ESD protection: IEC 61000-4-2 level 4 compliance guaranteed at device level, hence greater immunity at system level
ESD protection of VBUS
High reliability offered by monolithic integration
Low leakage current for longer operation of battery powered devices
Fast response time
Consistent D+ / D- signal balance: – Very low capacitance matching tolerance I/O to GND = 0.015 pF – Compliant with USB 2.0 requirements
Applications
USB 2.0 ports up to 480 Mb/s (high speed)
Compatible with USB 1.1 low and full speed
Ethernet port: 10/100 Mb/s
SIM card protection
Video line protection
Portable electronics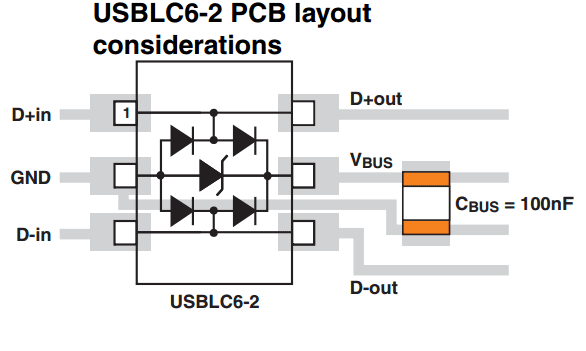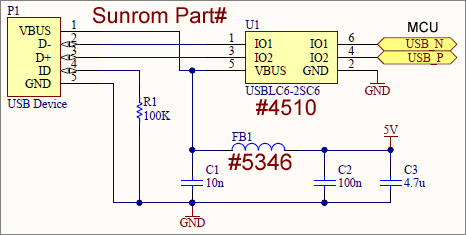 Widely used in many commercial products.