Install SMPS, PCB, PSU, Enclosure, Connectors and Boxes easily onto standard 35mm DIN rail
Universal DIN Rail Mounting Clip Bracket
Sunrom Product Code for Ordering:
5934
Features
Sturdy and Versatile
Clips onto 35mm DIN rail
Countersunk mounting hole
DIN Rail not included
25x69mm Size
Max 1KG load per clamp
Vibration Proof design
These sturdy DIN rail mounting brackets come in handy for a wide variety of projects where standard DIN rail is used for mounting devices. The flat mounting surface and a CSK type of mounting holes make these clips versatile for mounting devices that do not have their own DIN rail mounting clip. All of these clips are for standard 35mm DIN rail and work with rail depths of 7.5mm or greater. These clips are sometimes known as DIN rail mounting brackets or plates.
Note that the surface of the device being mounted to the DIN clip should be flat and cover the DIN clip in order to keep the springs and latch portion of the clip securely in place.
Installation and Removal
These clips are very easily attached and detached from the DIN rail. When on the rail, the clip "grips" the rail on both the top and bottom lips of the rail. The solid "fixed" (non spring-loaded) tab of the clip should rest on the top of the rail so that it bears the load. The spring-loaded tab latches to the bottom of the DIN rail. To remove the DIN clip from the rail, simply push upwards on the DIN clip (thereby compressing the latch springs), pivot the top of the clip off of the rail, and then lower the clip off the rail. No screwdrivers or special tools are required.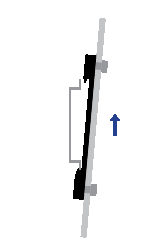 Mounting Hole Countersink Countersunk
Non-threaded countersunk holes; use flat head screws to fasten the bracket to your device. The mounting holes are 3.4mm in diameter and are designed for M3 hardware. However, the holes also allow up to a #6 sheet metal screw to pass through.
Dimensions