Loadcell sensor 24 bit ADC - HX711
Weight sensor, Loadcell interfacing, Digitizer, Sensing Bridge to digital interfacing
Quantity Pricing
Quantity :
Price (Discount%)
100-249 :
Rs.157.50/- (10%)
250-499 :
Rs.155.75/- (11%)
500-999 :
Rs.152.25/- (13%)
1000+ :
Rs.148.75/- (15%)
Loadcell sensor 24 bit ADC - HX711
Sunrom Product Code for Ordering:
4599
This module uses 24 high precision A/D converter chip HX711. It is a specially designed for the high precision electronic scale design, with two analog input channel, the internal integration of 128 times the programmable gain amplifier. The input circuit can be configured to provide a bridge type pressure bridge (such as pressure, weighing sensor mode), is of high precision, low cost is an ideal sampling front-end module.
Specifications
Differential input voltage: ±40mV (Full-scale differential input voltage is ± 40mV)
Data accuracy: 24 bit (24 bit A / D converter chip.)
Refresh frequency: 10/80 Hz
Operating Voltage: 2.7V to 5VDC
Operating current: <10 mA
Size: 24x16mm
Board Schematic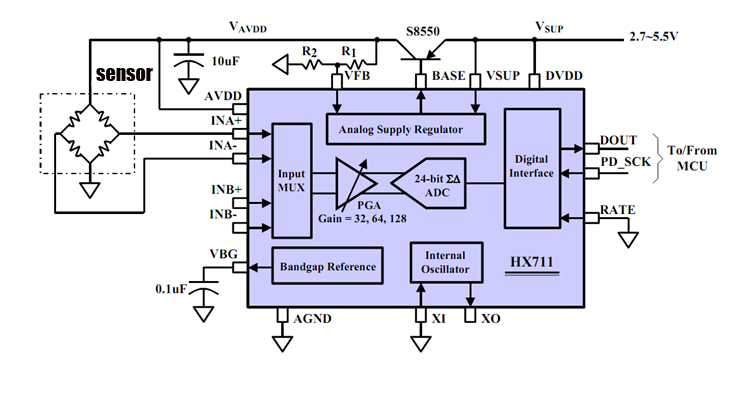 ​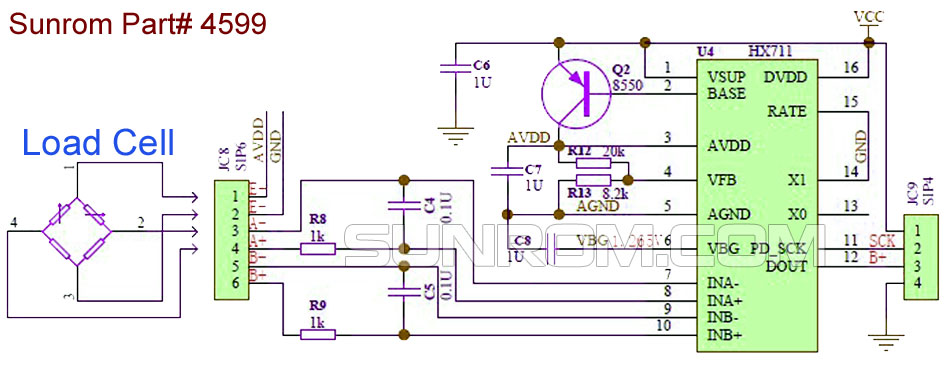 Sample Code

sbit AD_DATA_PIN = P1^5; // Pin mapping of microcontroller
sbit AD_SCK_PIN = P0^0; // Pin mapping of microcontroller

unsigned long ReadCount(void)
{
	unsigned long Count;
	unsigned char i;
	AD_SCK_PIN=0; 
	Count=0;
	while(AD_DATA_PIN); 
	for (i=0;i<24;i++)
	{
		AD_SCK_PIN=1;
		Count=Count<<1;
		AD_SCK_PIN=0;
		if(AD_DATA_PIN) Count++;
	}
	AD_SCK_PIN=1;
	Count=Count^0x800000;
	AD_SCK_PIN=0;
	return(Count);
}
Related Links