Direct mount these screw on metal without drilling or tapping, Huge timer saver since these contain a drill point at its tip. We use these in control panel to mount DIN panel for MCBs and PVC wire guide. All you need is a electric screw driver.
4.2x16mm Self Drilling Screw Phillips Truss head Zinc Plated
Sunrom Product Code for Ordering:
6544
Drilling, Tapping, Fastening in single quick operation using electric screw driver on Sheet Metal or PVC Panels,
All three operation in single cycle.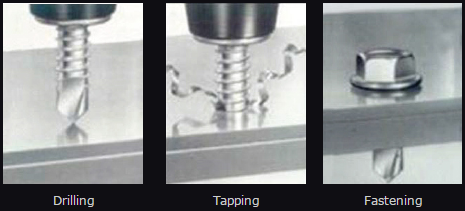 Low profile wafer head self-drilling tek screws are a medium duty metal to metal screw, with a large 'wafer' head which has a flat finish on the underside. This makes it ideal to for fixing thin sheet material, as the wafer head provides both excellent clamping and a sleek low profile finish. Our wafer head screws have an medium duty zinc CR3 plating to provide rust resistance.
PH2 Philips drive wafer head
8g x 5/8'' Imperial size
Zinc CR-3 plated
Features
Large head Ø for increased clamping.
Coarse 60 degree self-tapping thread for extreme grip & excellent pull out
Zinc CR3 plating
Phillips No2 recess for a positive drive
Dimensions
External thread dia: 4.2mm
Drill point dia (dp): 3.3mm
Head dia (DK): 10.92mm
Head height (H): 2.36mm
Length (L): 16mm
Drill point length (K): 5mm
Drive: PH2
Material: Case hardened steel
Finish: Zinc CR3