The Keil ULINK2 Debug Adapter connects your PC's USB port to your target system (via JTAG, SWD, or OCDS) and allows you to program and debug embedded programs on target hardware. Software used on PC will be Keil-MDK. The hardware is firmware upgradable 100% through Keil IDE itself.
Features
100% compatible with Keil Ulink2
Supports various ARM7, ARM9, Cortex-M, 8051, and C166 devices
JTAG speed up to 10MHz
Serial Wire Debug (SWD) support for ARM Cortex-M based devices
Serial Wire Viewer (SWV) Data Trace for Cortex-M up to 1Mbit/s (UART mode)
Real-Time Agent with memory R/W during execution, terminal emulation, and serial debug output
Seamless integration with the Keil µVision IDE & Debugger
Wide target voltage range: 2.7V - 5.5V
USB powered (no power supply required)
Plug-and-Play installation using standard Windows USB drivers
Target Connectors
20-pin (0.10") - ARM Standard JTAG Connector
ULINK2 may be used for:
On-chip Debugging (using on-chip JTAG, SWD, or SWV), Flash Memory Programming (using user-configurable Flash programming algorithms).
Using the ULINK2 adapter together with the Keil µVision IDE/Debugger, you can easily create, download, and test embedded applications on target hardware.
Download User guide from this page. Use Keil MDK-ARM as software to program and debug.
Using Ulink2 as only ARM Programmer without IDE debugging is possible. "µVision can program HEX files as described in the µVision4 User's Guide, Flash Programming, HEX File Flash Download." You do not need a full version of the tools, since loading and programming of HEX files is unrestricted in the Demo/Evaluation Tools. µVision can be also called from BATCH mode, so that you can integrate the Flash programming into an automated process.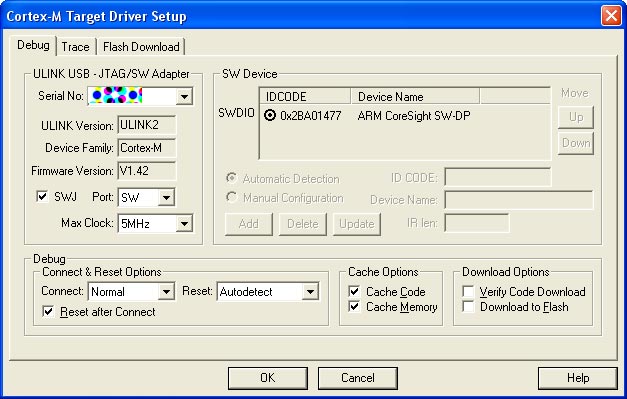 Realtime Debugging Support from Keil ARM MDK IDE
Features
Supported Devices
Analog Devices (ARM7/ARM9/Cortex Family)
ADuC7019, ADuC7020, ADuC7021, ADuC7022, ADuC7023, ADuC7024, ADuC7025, ADuC7026, ADuC7027, ADuC7028, ADuC7030, ADuC7032, ADuC7033, ADuC7034, ADuC7036, ADuC7037, ADuC7038, ADuC7039, ADuC7060, ADuC7061, ADuC7121, ADuC7122, ADuC7124, ADuC7126, ADuC7128, ADuC7129, ADuC7229, ADuCM360, ADuCM361, ADuCRF101
ARM (ARM7/ARM9/Cortex Family)
Cortex-M0, Cortex-M1 (Altera), Cortex-M3, Cortex-M4, Cortex-M4 FPU
Atmel (ARM7/ARM9/Cortex Family)
AT91C140, AT91F40416, AT91F40816, AT91FR40162, AT91FR4042, AT91FR4081, AT91M40400, AT91M40800, AT91M40807, AT91M42800A, AT91M43300, AT91M55800A, AT91M63200, AT91R40008, AT91R40807, AT91RM3400, AT91RM9200, AT91SAM7A1, AT91SAM7A2, AT91SAM7A3, AT91SAM7L128, AT91SAM7L64, AT91SAM7S128, AT91SAM7S16, AT91SAM7S161, AT91SAM7S256, AT91SAM7S32, AT91SAM7S321, AT91SAM7S512, AT91SAM7S64, AT91SAM7SE256, AT91SAM7SE32, AT91SAM7SE512, AT91SAM7X128, AT91SAM7X256, AT91SAM7X512, AT91SAM7XC128, AT91SAM7XC256, AT91SAM7XC512, AT91SAM9260, AT91SAM9261, AT91SAM9261S, AT91SAM9263, AT91SAM9M10, AT91SAM9R64, AT91SAM9RL64, AT91SAM9XE128, AT91SAM9XE256, AT91SAM9XE512, SAM3A4C, SAM3A8C, SAM3N00A, SAM3N00B, SAM3N0A, SAM3N0B, SAM3N0C, SAM3N1A, SAM3N1B, SAM3N1C, SAM3N2A, SAM3N2B, SAM3N2C, SAM3N4A, SAM3N4B, SAM3N4C, SAM3S1A, SAM3S1B, SAM3S1C, SAM3S2A, SAM3S2B, SAM3S2C, SAM3S4A, SAM3S4B, SAM3S4C, SAM3S8B, SAM3S8C, SAM3SD8B, SAM3SD8C, SAM3U1C, SAM3U1E, SAM3U2C, SAM3U2E, SAM3U4C, SAM3U4E, SAM3X4C, SAM3X4E, SAM3X8C, SAM3X8E, SAM3X8H, SAM4E16C, SAM4E16E, SAM4E8C, SAM4E8E, SAM4LC2A, SAM4LC2B, SAM4LC2C, SAM4LC4A, SAM4LC4B, SAM4LC4C, SAM4LS2A, SAM4LS2B, SAM4LS2C, SAM4LS4A, SAM4LS4B, SAM4LS4C, SAM4N16B, SAM4N16C, SAM4N8A, SAM4N8B, SAM4N8C, SAM4S16B, SAM4S16C, SAM4S8B, SAM4S8C, SAM4SA16B, SAM4SA16C, SAM4SD16B, SAM4SD16C, SAM4SD32B, SAM4SD32C, SAM4SP32A, SAM9G10, SAM9G15, SAM9G20, SAM9G25, SAM9G35, SAM9G45, SAM9X25, SAM9X35, SAMD20E14, SAMD20E15, SAMD20E16, SAMD20E17, SAMD20G14, SAMD20G15, SAMD20G16, SAMD20G17, SAMD20G18, SAMD20J14, SAMD20J15, SAMD20J16, SAMD20J17, SAMD20J18
AustriaMicroSystems (ARM7/ARM9/Cortex Family)
AS3525
Cirrus Logic (ARM7/ARM9/Cortex Family)
CS740110-IQZ, CS740120-IQZ, CS740130-IQZ
Cypress (ARM7/ARM9/Cortex Family)
CY8C5246AXI-054, CY8C5246LTI-029, CY8C5247AXI-051, CY8C5247LTI-089, CY8C5248AXI-047, CY8C5248LTI-030, CY8C5265AXI-LP056, CY8C5265AXI-LP082, CY8C5265LTI-LP050, CY8C5265LTI-LP058, CY8C5266AXI-LP033, CY8C5266AXI-LP132, CY8C5266LTI-LP029, CY8C5266LTI-LP150, CY8C5267AXI-LP051, CY8C5267LTI-LP089, CY8C5268AXI-LP047, CY8C5268LTI-LP030, CY8C5365AXI-043, CY8C5365LTI-104, CY8C5366AXI-001, CY8C5366LTI-053, CY8C5367AXI-108, CY8C5367LTI-003, CY8C5368AXI-106, CY8C5368LTI-026, CY8C5465AXI-LP043, CY8C5465LTI-LP104, CY8C5466AXI-064, CY8C5466AXI-LP002, CY8C5466AXI-LP107, CY8C5466LTI-063, CY8C5466LTI-LP072, CY8C5466LTI-LP085, CY8C5467AXI-011, CY8C5467AXI-LP108, CY8C5467LTI-007, CY8C5467LTI-LP003, CY8C5468AXI-018, CY8C5468AXI-LP106, CY8C5468LTI-037, CY8C5468LTI-LP026, CY8C5566AXI-061, CY8C5566LTI-017, CY8C5567AXI-019, CY8C5567LTI-079, CY8C5568AXI-060, CY8C5568LTI-114, CY8C5666AXI-LP001, CY8C5666AXI-LP004, CY8C5666LTI-LP005, CY8C5667AXI-LP006, CY8C5667AXI-LP040, CY8C5667LTI-LP008, CY8C5667LTI-LP009, CY8C5667LTI-LP041, CY8C5668AXI-LP010, CY8C5668AXI-LP013, CY8C5668AXI-LP034, CY8C5668LTI-LP014, CY8C5866AXI-LP020, CY8C5866AXI-LP021, CY8C5866LTI-LP022, CY8C5867AXI-LP023, CY8C5867AXI-LP024, CY8C5867LTI-LP025, CY8C5867LTI-LP028, CY8C5868AXI-LP031, CY8C5868AXI-LP032, CY8C5868AXI-LP035, CY8C5868LTI-LP036, CY8C5868LTI-LP038, CY8C5868LTI-LP039
Dialog Semiconductor (ARM7/ARM9/Cortex Family)
DA14580
Energy Micro (ARM7/ARM9/Cortex Family)
EFM32G200F16, EFM32G200F32, EFM32G200F64, EFM32G210F128, EFM32G222F128, EFM32G222F32, EFM32G222F64, EFM32G230F128, EFM32G230F32, EFM32G230F64, EFM32G232F128, EFM32G232F32, EFM32G232F64, EFM32G280F128, EFM32G280F32, EFM32G280F64, EFM32G290F128, EFM32G290F32, EFM32G290F64, EFM32G840F128, EFM32G840F32, EFM32G840F64, EFM32G842F128, EFM32G842F32, EFM32G842F64, EFM32G880F128, EFM32G880F32, EFM32G880F64, EFM32G890F128, EFM32G890F32, EFM32G890F64, EFM32GG230F1024, EFM32GG230F512, EFM32GG232F1024, EFM32GG232F512, EFM32GG280F1024, EFM32GG280F512, EFM32GG290F1024, EFM32GG290F512, EFM32GG295F1024, EFM32GG295F512, EFM32GG330F1024, EFM32GG330F512, EFM32GG332F1024, EFM32GG332F512, EFM32GG380F1024, EFM32GG380F512, EFM32GG390F1024, EFM32GG390F512, EFM32GG395F1024, EFM32GG395F512, EFM32GG840F1024, EFM32GG840F512, EFM32GG842F1024, EFM32GG842F512, EFM32GG880F1024, EFM32GG880F512, EFM32GG890F1024, EFM32GG890F512, EFM32GG895F1024, EFM32GG895F512, EFM32GG940F1024, EFM32GG940F512, EFM32GG942F1024, EFM32GG942F512, EFM32GG980F1024, EFM32GG980F512, EFM32GG990F1024, EFM32GG990F512, EFM32GG995F1024, EFM32GG995F512, EFM32LG230F128, EFM32LG230F256, EFM32LG230F64, EFM32LG232F128, EFM32LG232F256, EFM32LG232F64, EFM32LG280F128, EFM32LG280F256, EFM32LG280F64, EFM32LG290F128, EFM32LG290F256, EFM32LG290F64, EFM32LG295F128, EFM32LG295F256, EFM32LG295F64, EFM32LG330F128, EFM32LG330F256, EFM32LG330F64, EFM32LG332F128, EFM32LG332F256, EFM32LG332F64, EFM32LG380F128, EFM32LG380F256, EFM32LG380F64, EFM32LG390F128, EFM32LG390F256, EFM32LG390F64, EFM32LG395F128, EFM32LG395F256, EFM32LG395F64, EFM32LG840F128, EFM32LG840F256, EFM32LG840F64, EFM32LG842F128, EFM32LG842F256, EFM32LG842F64, EFM32LG880F128, EFM32LG880F256, EFM32LG880F64, EFM32LG890F128, EFM32LG890F256, EFM32LG890F64, EFM32LG895F128, EFM32LG895F256, EFM32LG895F64, EFM32LG940F128, EFM32LG940F256, EFM32LG940F64, EFM32LG942F128, EFM32LG942F256, EFM32LG942F64, EFM32LG980F128, EFM32LG980F256, EFM32LG980F64, EFM32LG990F128, EFM32LG990F256, EFM32LG990F64, EFM32LG995F128, EFM32LG995F256, EFM32LG995F64, EFM32TG108F16, EFM32TG108F32, EFM32TG108F4, EFM32TG108F8, EFM32TG110F16, EFM32TG110F32, EFM32TG110F4, EFM32TG110F8, EFM32TG210F16, EFM32TG210F32, EFM32TG210F8, EFM32TG222F16, EFM32TG222F32, EFM32TG222F8, EFM32TG230F16, EFM32TG230F32, EFM32TG230F8, EFM32TG232F16, EFM32TG232F32, EFM32TG232F8, EFM32TG822F16, EFM32TG822F32, EFM32TG822F8, EFM32TG840F16, EFM32TG840F32, EFM32TG840F8, EFM32TG842F16, EFM32TG842F32, EFM32TG842F8, EFM32WG230F128, EFM32WG230F256, EFM32WG230F64, EFM32WG232F128, EFM32WG232F256, EFM32WG232F64, EFM32WG280F128, EFM32WG280F256, EFM32WG280F64, EFM32WG290F128, EFM32WG290F256, EFM32WG290F64, EFM32WG295F128, EFM32WG295F256, EFM32WG295F64, EFM32WG330F128, EFM32WG330F256, EFM32WG330F64, EFM32WG332F128, EFM32WG332F256, EFM32WG332F64, EFM32WG380F128, EFM32WG380F256, EFM32WG380F64, EFM32WG390F128, EFM32WG390F256, EFM32WG390F64, EFM32WG395F128, EFM32WG395F256, EFM32WG395F64, EFM32WG840F128, EFM32WG840F256, EFM32WG840F64, EFM32WG842F128, EFM32WG842F256, EFM32WG842F64, EFM32WG880F128, EFM32WG880F256, EFM32WG880F64, EFM32WG890F128, EFM32WG890F256, EFM32WG890F64, EFM32WG895F128, EFM32WG895F256, EFM32WG895F64, EFM32WG940F128, EFM32WG940F256, EFM32WG940F64, EFM32WG942F128, EFM32WG942F256, EFM32WG942F64, EFM32WG980F128, EFM32WG980F256, EFM32WG980F64, EFM32WG990F128, EFM32WG990F256, EFM32WG990F64, EFM32WG995F128, EFM32WG995F256, EFM32WG995F64
Freescale Semiconductor (ARM7/ARM9/Cortex Family)
MAC7101, MAC7104, MAC7105, MAC7106, MAC7111, MAC7112, MAC7114, MAC7115, MAC7116, MAC7121, MAC7122, MAC7124, MAC7125, MAC7126, MAC7131, MAC7134, MAC7135, MAC7136, MAC7141, MAC7142, MAC7144, MC9328MX21, MCIMX27, MCIMX27L, MK10DN128xxx5, MK10DN32xxx5, MK10DN512xxx10, MK10DN64xxx5, MK10DX128xxx10, MK10DX128xxx5, MK10DX128xxx7, MK10DX256xxx10, MK10DX256xxx7, MK10DX32xxx5, MK10DX64xxx5, MK10DX64xxx7, MK10FN1M0xxx12, MK10FX512xxx12, MK10N512VMD100, MK10X128VMD100, MK10X256VMD100, MK11DN512xxx5, MK11DX128xxx5, MK11DX256xxx5, MK12DN512xxx5, MK12DX128xxx5, MK12DX256xxx5, MK20DN128xxx5, MK20DN32xxx5, MK20DN512xxx10, MK20DN64xxx5, MK20DX128xxx10, MK20DX128xxx5, MK20DX128xxx7, MK20DX256xxx10, MK20DX256xxx7, MK20DX32xxx5, MK20DX64xxx5, MK20DX64xxx7, MK20FN1M0xxx12, MK20FX512xxx12, MK20N512VMD100, MK20X128VMD100, MK20X256VMD100, MK21DN512xxx5, MK21DX128xxx5, MK21DX256xxx5, MK21FN1M0xxx10, MK21FN1M0xxx12, MK21FX512xxx10, MK21FX512xxx12, MK22DN512xxx5, MK22DX128xxx5, MK22DX256xxx5, MK22FN1M0xxx10, MK22FN1M0xxx12, MK22FX512xxx10, MK22FX512xxx12, MK30DN512xxx10, MK30DX128xxx10, MK30DX128xxx7, MK30DX256xxx10, MK30DX256xxx7, MK30DX64xxx7, MK30N512VMD100, MK30X128VMD100, MK30X256VMD100, MK40DN512xxx10, MK40DX128xxx10, MK40DX128xxx7, MK40DX256xxx10, MK40DX256xxx7, MK40DX64xxx7, MK40N512VMD100, MK40X128VMD100, MK40X256VMD100, MK50DN512xxx10, MK50DX128xxx7, MK50DX256xxx10, MK50DX256xxx7, MK50N512CMD100, MK51DN512xxx10, MK51DX128xxx7, MK51DX256xxx10, MK51DX256xxx7, MK51N512CMD100, MK52DN512xxx10, MK52N512CMD100, MK53DN512xxx10, MK53DX256xxx10, MK53N512CMD100, MK60DN256xxx10, MK60DN512xxx10, MK60DX256xxx10, MK60FN1M0xxx12, MK60FN1M0xxx15, MK60FX512xxx12, MK60FX512xxx15, MK60N512VMD100, MK60X256VMD100, MK61FN1M0xxx12, MK61FN1M0xxx15, MK61FX512xxx12, MK61FX512xxx15, MK70FN1M0xxx12, MK70FN1M0xxx15, MK70FX512xxx12, MK70FX512xxx15, MKE02Z16xxx2, MKE02Z32xxx2, MKE02Z64xxx2, MKE04Z8xxx4, MKL02Z16xxx4, MKL02Z32xxx4, MKL02Z8xxx4, MKL04Z16xxx4, MKL04Z32xxx4, MKL04Z8xxx4, MKL05Z16xxx4, MKL05Z32xxx4, MKL05Z8xxx4, MKL14Z32xxx4, MKL14Z64xxx4, MKL15Z128xxx4, MKL15Z32xxx4, MKL15Z64xxx4, MKL16Z256xxx4, MKL24Z128xxx4, MKL24Z32xxx4, MKL24Z64xxx4, MKL25Z128xxx4, MKL25Z32xxx4, MKL25Z64xxx4, MKL26Z128xxx4, MKL26Z256xxx4, MKL34Z64xxx4, MKL36Z128xxx4, MKL36Z256xxx4, MKL46Z128xxx4, MKL46Z256xxx4, MKM13Z64xxx5, MKM14Z128xxx5, MKM14Z64xxx5, MKM32Z64xxx5, MKM33Z128xxx5, MKM33Z64xxx5, MKM34Z128xxx5, MKM38Z128xxx5
Fujitsu Semiconductor (ARM7/ARM9/Cortex Family)
devices moved to Spansion
Holtek (ARM7/ARM9/Cortex Family)
HT32F1251, HT32F1251B, HT32F1252, HT32F1253, HT32F1755, HT32F1765, HT32F2755
Infineon (8051 Family)
TLE7809, TLE7810, TLE7824, TLE7826, TLE9831, TLE9832, TLE9833, TLE9834, TLE9835, XC822-1F, XC822M-1F, XC822MT-1F, XC822T-0F, XC822T-1F, XC824M-1F, XC824MT-1F, XC835MT-2F, XC836-2F, XC836M-1F, XC836M-2F, XC836MT-1F, XC836MT-2F, XC836T-2F, XC858CA-13F, XC858CA-16F, XC858CA-9F, XC864-1FRI, XC866-1FR, XC866-2FR, XC866-4FR, XC866L-1FR, XC866L-2FR, XC866L-4FR, XC874-13F, XC874-16F, XC874CLM-13F, XC874CLM-16F, XC874CM-13F, XC874CM-16F, XC874LM-13F, XC874LM-16F, XC878-13FF, XC878-16FF, XC878C-13FF, XC878C-16FF, XC878CLM-13F, XC878CLM-16F, XC878CM-13FF, XC878CM-16FF, XC878L-13FF, XC878L-16FF, XC878LM-13F, XC878LM-16F, XC878M-13FF, XC878M-16FF, XC886-6FF, XC886-8FF, XC886C-6FF, XC886C-8FF, XC886CLM-6FF, XC886CLM-8FF, XC886CM-6FF, XC886CM-8FF, XC886LM-6FF, XC886LM-8FF, XC888-6FF, XC888-8FF, XC888C-6FF, XC888C-8FF, XC888CLM-6FF, XC888CLM-8FF, XC888CM-6FF, XC888CM-8FF, XC888LM-6FF, XC888LM-8FF
Infineon (ARM7/ARM9/Cortex Family)
XMC1100-64, XMC1200-200, XMC1302-200, XMC4100-128, XMC4104-128, XMC4104-64, XMC4200-256, XMC4400-256, XMC4400-512, XMC4402-256, XMC4500-1024, XMC4500-768, XMC4502-768, XMC4504-512
Infineon (C16x/ST10/XC16x Family)
XC161CJ-16F, XC161CS-32F, XC164CM-16F, XC164CM-4F, XC164CM-8F, XC164CS-16F, XC164CS-16R, XC164CS-32F, XC164CS-32R, XC164CS-8F, XC164CS-8R, XC164D-16F, XC164D-32F, XC164D-8F, XC164GM-16F, XC164GM-4F, XC164GM-8F, XC164KM-4F, XC164KM-8F, XC164LM-4F, XC164LM-8F, XC164N-16F, XC164N-32F, XC164N-8F, XC164S-16F, XC164S-32F, XC164S-8F, XC164SM-4F, XC164SM-8F, XC164TM-4F, XC164TM-8F, XC167CI-16F, XC167CI-32F, XC2210U-4F, XC2210U-8F, XC2220L-12F, XC2220L-20F, XC2220U-4F, XC2220U-8F, XC2224L-12F, XC2224L-20F, XC2230L-12F, XC2230L-20F, XC2232N-24F, XC2232N-40F, XC2234L-12F, XC2234L-20F, XC2234N-16F, XC2234N-24F, XC2234N-40F, XC2236N-16F, XC2236N-24F, XC2236N-40F, XC2237M-104F, XC2237M-56F, XC2237M-72F, XC2238N-24F, XC2238N-40F, XC2261N-24F, XC2263M-104F, XC2263M-56F, XC2263M-72F, XC2263N-16F, XC2263N-24F, XC2263N-40F, XC2264-56F, XC2264-72F, XC2264-96F, XC2264N-16F, XC2264N-40F, XC2265M-104F, XC2265M-56F, XC2265M-72F, XC2265N-24F, XC2265N-40F, XC2267-56F, XC2267-72F, XC2267-96F, XC2267M-104F, XC2267M-56F, XC2267M-72F, XC2268I-136F, XC2268N-24F, XC2268N-40F, XC2269I-136F, XC2285-56F, XC2285-72F, XC2285-96F, XC2285M-104F, XC2285M-56F, XC2285M-72F, XC2286-56F, XC2286-72F, XC2286-96F, XC2287-56F, XC2287-72F, XC2287-96F, XC2287M-104F, XC2287M-56F, XC2287M-72F, XC2288H-136F, XC2288H-200F, XC2288I-136F, XC2289H-136F, XC2289H-200F, XC2289I-136F, XC2298H-136F, XC2298H-200F, XC2299H-136F, XC2299H-200F, XC2310S-4F, XC2310S-8F, XC2320D-12F, XC2320D-20F, XC2320S-4F, XC2320S-8F, XC2321D-12F, XC2321D-20F, XC2330D-12F, XC2330D-20F, XC2331D-12F, XC2331D-20F, XC2336A-56F, XC2336A-72F, XC2336B-24F, XC2336B-40F, XC2338B-24F, XC2338B-40F, XC2361A-56F, XC2361A-56F, XC2361A-72F, XC2361B-40F, XC2361E-104F, XC2361E-136F, XC2363A-56F, XC2363A-72F, XC2364A-104F, XC2364A-56F, XC2364A-72F, XC2364B-24F, XC2364B-40F, XC2365-48F, XC2365-56F, XC2365-72F, XC2365A-104F, XC2365A-56F, XC2365A-72F, XC2365B-40F, XC2365E-136F, XC2368E-104F, XC2368E-136F, XC2387-72F, XC2387A-104F, XC2387A-56F, XC2387A-72F, XC2387C-136F, XC2388C-136F, XC2388C-200F, XC2388E-104F, XC2388E-136F, XC2712X-8F, XC2722X-8F, XC2723X-20F, XC2733X-20F, XC2734X-32F, XC2734X-40F, XC2764X-32F, XC2764X-40F, XC2765X-104F, XC2765X-72F, XC2765X-96F, XC2766X-96F, XC2768X-104F, XC2768X-136F, XC2785X-104F, XC2785X-72F, XC2786X-96F, XC2787X-136F, XC2787X-200F, XC2788X-104F, XC2788X-136F, XC2797X-136F, XC2797X-200F, XE160FU-4F, XE160FU-8F, XE161FL-12F, XE161FL-20F, XE161FU-4F, XE161FU-8F, XE161HL-12F, XE161HL-20F, XE162FL-12F, XE162FL-20F, XE162FM-24F, XE162FM-48F, XE162FM-72F, XE162FN-16F, XE162FN-24F, XE162FN-40F, XE162HL-12F, XE162HL-20F, XE162HM-24F, XE162HM-48F, XE162HM-72F, XE162HN-16F, XE162HN-24F, XE162HN-40F, XE164F-24F, XE164F-48F, XE164F-72F, XE164F-96F, XE164FM-24F, XE164FM-48F, XE164FM-72F, XE164FN-16F, XE164FN-24F, XE164FN-40F, XE164G-24F, XE164G-48F, XE164G-72F, XE164G-96F, XE164GM-24F, XE164GM-48F, XE164GM-72F, XE164GN-16F, XE164GN-24F, XE164GN-40F, XE164H-24F, XE164H-48F, XE164H-72F, XE164H-96F, XE164HM-24F, XE164HM-48F, XE164HM-72F, XE164HN-16F, XE164HN-24F, XE164HN-40F, XE164K-24F, XE164K-48F, XE164K-72F, XE164K-96F, XE164KM-24F, XE164KM-48F, XE164KM-72F, XE164KN-16F, XE164KN-24F, XE164KN-40F, XE167F-48F, XE167F-72F, XE167F-96F, XE167FH-136F, XE167FH-200F, XE167FM-48F, XE167FM-72F, XE167G-48F, XE167G-48F, XE167G-72F, XE167G-96F, XE167GM-48F, XE167GM-72F, XE167H-48F, XE167H-72F, XE167H-96F, XE167HM-48F, XE167HM-72F, XE167K-48F, XE167K-72F, XE167K-96F, XE167KM-48F, XE167KM-72F, XE169FH-136F, XE169FH-200F
Lapis Semiconductor (ARM7/ARM9/Cortex Family)
ML674000, ML674001, ML674002, ML674003, ML675001, ML675002, ML675003, ML675011, ML67Q4050, ML67Q4051, ML67Q4060, ML67Q4061, ML67Q5250, ML67Q5260, ML696201, ML69Q6203
Luminary Micro (ARM7/ARM9/Cortex Family)
moved to Texas Instruments
Microsemi (ARM7/ARM9/Cortex Family)
A2F060M3E, A2F200M3F, A2F500M3G, COREMP7, Cortex-M1, M2S005, M2S010, M2S025, M2S050, M2S080, M2S120
Milandr (ARM7/ARM9/Cortex Family)
MDR32F9Q1I, MDR32F9Q2I, MDR32F9Q3I
Nordic Semiconductor (ARM7/ARM9/Cortex Family)
nRF51422_xxAA, nRF51822_xxAA, nRF51822_xxAB
Nuvoton (ARM7/ARM9/Cortex Family)
M0516LAN, M0516LBN, M0516ZAN, M0516ZBN, M052LAN, M052LBN, M052ZAN, M052ZBN, M054LAN, M054LBN, M054ZAN, M054ZBN, M058LAN, M058LBN, M058SLAN, M058SSAN, M058SZAN, M058ZAN, M058ZBN, MINI51LAN, MINI51TAN, MINI51ZAN, MINI52LAN, MINI52TAN, MINI52ZAN, MINI54LAN, MINI54TAN, MINI54ZAN, NANO100KC2BN, NANO100KD2BN, NANO100KD3BN, NANO100KE3BN, NANO100LC2BN, NANO100LD2BN, NANO100LD3BN, NANO100LE3BN, NANO100SC2BN, NANO100SD2BN, NANO100SD3BN, NANO100SE3BN, NANO110KC2BN, NANO110KD2BN, NANO110KD3BN, NANO110KE3BN, NANO110SC2BN, NANO110SD2BN, NANO110SD3BN, NANO110SE3BN, NANO120KC2BN, NANO120KD2BN, NANO120KD3BN, NANO120KE3BN, NANO120LC2BN, NANO120LD2BN, NANO120LD3BN, NANO120LE3BN, NANO120SC2BN, NANO120SD2BN, NANO120SD3BN, NANO120SE3BN, NANO130KC2BN, NANO130KD2BN, NANO130KD3BN, NANO130KE3BN, NANO130SC2BN, NANO130SD2BN, NANO130SD3BN, NANO130SE3BN, NUC100LC1AN, NUC100LC1BN, NUC100LD1AN, NUC100LD1BN, NUC100LD2AN, NUC100LD2BN, NUC100LD3AN, NUC100LE3AN, NUC100RC1AN, NUC100RC1BN, NUC100RD1AN, NUC100RD1BN, NUC100RD2AN, NUC100RD2BN, NUC100RD3AN, NUC100RE3AN, NUC100VD2AN, NUC100VD3AN, NUC100VE3AN, NUC101LC1AN, NUC101LD2AN, NUC101LE3AN, NUC101RC1AN, NUC101RD2AN, NUC101RE3AN, NUC101VC1AN, NUC101VD2AN, NUC101VE3AN, NUC120LC1AN, NUC120LC1BN, NUC120LD1AN, NUC120LD1BN, NUC120LD2AN, NUC120LD2BN, NUC120LD3AN, NUC120LE3AN, NUC120RC1AN, NUC120RC1BN, NUC120RD1AN, NUC120RD1BN, NUC120RD2AN, NUC120RD2BN, NUC120RD3AN, NUC120RE3AN, NUC120VD2AN, NUC120VD3AN, NUC120VE3AN, NUC122LC1AN, NUC122LD2AN, NUC122SC1AN, NUC122SD2AN, NUC122ZC1AN, NUC122ZD2AN, NUC123LC2AN1, NUC123LD4AN0, NUC123SC2AN1, NUC123SD4AN0, NUC123ZC2AN1, NUC123ZD4AN0, NUC130LC1CN, NUC130LD2AN, NUC130LD2CN, NUC130LD3AN, NUC130LE3AN, NUC130LE3CN, NUC130RC1CN, NUC130RD2AN, NUC130RD2CN, NUC130RD3AN, NUC130RE3AN, NUC130RE3CN, NUC130VD2AN, NUC130VD3AN, NUC130VE3AN, NUC130VE3CN, NUC140LC1CN, NUC140LD2AN, NUC140LD2CN, NUC140LD3AN, NUC140LE3AN, NUC140LE3CN, NUC140RC1CN, NUC140RD2AN, NUC140RD2CN, NUC140RD3AN, NUC140RE3AN, NUC140RE3CN, NUC140VD2AN, NUC140VD3AN, NUC140VE3AN, NUC140VE3CN, NUC200LC2AN, NUC200LD2AN, NUC200LE3AN, NUC200SC2AN, NUC200SD2AN, NUC200SE3AN, NUC200VE3AN, NUC220LC2AN, NUC220LD2AN, NUC220LE3AN, NUC220SC2AN, NUC220SD2AN, NUC220SE3AN, NUC220VE3AN, NUC501ADN, NUC501BDN, NUC710, NUC740, NUC745
NXP (founded by Philips) (8051 Family)
P89LPC952, P89LPC954
NXP (founded by Philips) (ARM7/ARM9/Cortex Family)
LH75400, LH75401, LH75410, LH75411, LH79520, LH79524, LH79525, LH7A400, LH7A404, LPC1101LVUK, LPC1102LVUK, LPC1102UK, LPC1104UK, LPC1110, LPC1111/002, LPC1111/101, LPC1111/102, LPC1111/103, LPC1111/201, LPC1111/202, LPC1111/203, LPC1112/101, LPC1112/102, LPC1112/103, LPC1112/201, LPC1112/202, LPC1112/203, LPC1112LV/003, LPC1112LV/103, LPC1113/201, LPC1113/202, LPC1113/203, LPC1113/301, LPC1113/302, LPC1113/303, LPC1114/102, LPC1114/201, LPC1114/202, LPC1114/203, LPC1114/301, LPC1114/302, LPC1114/303, LPC1114/323, LPC1114/333, LPC1114LV/103, LPC1114LV/303, LPC1115/303, LPC11A02UK, LPC11A04UK, LPC11A11/001, LPC11A12/101, LPC11A13/201, LPC11A14/301, LPC11C12/301, LPC11C14/301, LPC11C22/301, LPC11C24/301, LPC11D14/302, LPC11E11/101, LPC11E12/201, LPC11E13/301, LPC11E14/401, LPC11E36/501, LPC11E37/501, LPC11U12/201, LPC11U13/201, LPC11U14/201, LPC11U23/301, LPC11U24/301, LPC11U24/401, LPC11U34/311, LPC11U34/421, LPC11U35/401, LPC11U35/501, LPC11U36/401, LPC11U37/401, LPC11U37/501, LPC1224/101, LPC1224/121, LPC1225/301, LPC1225/321, LPC1226/301, LPC1227/301, LPC12D27/301, LPC1311, LPC1311/01, LPC1313, LPC1313/01, LPC1315, LPC1316, LPC1317, LPC1342, LPC1343, LPC1345, LPC1346, LPC1347, LPC1751, LPC1752, LPC1754, LPC1756, LPC1758, LPC1759, LPC1763, LPC1764, LPC1765, LPC1766, LPC1767, LPC1768, LPC1769, LPC1774, LPC1776, LPC1777, LPC1778, LPC1785, LPC1786, LPC1787, LPC1788, LPC1810, LPC1820, LPC1830, LPC1833, LPC1837, LPC1850, LPC1853, LPC1857, LPC2101, LPC2102, LPC2103, LPC2104, LPC2104/01, LPC2105, LPC2105/01, LPC2106, LPC2106/01, LPC2109, LPC2109/01, LPC2114, LPC2114/01, LPC2119, LPC2119/01, LPC2124, LPC2124/01, LPC2129, LPC2129/01, LPC2131, LPC2131/01, LPC2132, LPC2132/01, LPC2134, LPC2134/01, LPC2136, LPC2136/01, LPC2138, LPC2138/01, LPC2141, LPC2142, LPC2144, LPC2146, LPC2148, LPC2194, LPC2194/01, LPC2210, LPC2210/01, LPC2212, LPC2212/01, LPC2214, LPC2214/01, LPC2220, LPC2290, LPC2290/01, LPC2292, LPC2292/01, LPC2294, LPC2294/01, LPC2361, LPC2362, LPC2364, LPC2365, LPC2366, LPC2367, LPC2368, LPC2377, LPC2378, LPC2387, LPC2388, LPC2420, LPC2458, LPC2460, LPC2468, LPC2470, LPC2478, LPC2880, LPC2888, LPC2917, LPC2917/01, LPC2919, LPC2919/01, LPC2921, LPC2923, LPC2925, LPC2926, LPC2927, LPC2929, LPC2930, LPC2939, LPC3130, LPC3131, LPC3141, LPC3143, LPC3152, LPC3154, LPC3180, LPC3220, LPC3230, LPC3240, LPC3250, LPC4072, LPC4074, LPC4076, LPC4078, LPC4088, LPC4310, LPC4310 CM0, LPC4320, LPC4320 CM0, LPC4330, LPC4330 CM0, LPC4350, LPC4350 CM0, LPC4353, LPC4353 CM0, LPC4357, LPC4357 CM0, LPC810M021, LPC811M001, LPC812M101, SJA2010
OKI SEMICONDUCTOR CO.,LTD. (ARM7/ARM9/Cortex Family)
moved to LAPIS
ROHM (ARM7/ARM9/Cortex Family)
BU1511KV2
Samsung (ARM7/ARM9/Cortex Family)
S3C2410A, S3C2416, S3C2440A, S3C44B0X, S3C4510B, S3F4A0KR, S3F4A1HR, S3F4A2FR, S3FM02G, S3FN429
Silicon Laboratories, Inc. (ARM7/ARM9/Cortex Family)
EM351, EM357, SiM3C134, SiM3C136, SiM3C144, SiM3C146, SiM3C154, SiM3C156, SiM3C157, SiM3C164, SiM3C166, SiM3C167, SiM3L134, SiM3L136, SiM3L144, SiM3L146, SiM3L154, SiM3L156, SiM3L157, SiM3L164, SiM3L166, SiM3L167, SiM3U134, SiM3U136, SiM3U144, SiM3U146, SiM3U154, SiM3U156, SiM3U157, SiM3U164, SiM3U166, SiM3U167
Socle Technology Corp. (ARM7/ARM9/Cortex Family)
PC7130, PC7230
SONiX (ARM7/ARM9/Cortex Family)
SN32F107, SN32F108, SN32F109, SN32F117, SN32F118, SN32F119, SN32F706, SN32F707, SN32F716, SN32F717, SN32F726, SN32F727
Spansion (ARM7/ARM9/Cortex Family)
MB9AF102N, MB9AF102R, MB9AF104N, MB9AF104R, MB9AF111K, MB9AF111L, MB9AF111M, MB9AF111N, MB9AF112K, MB9AF112L, MB9AF112M, MB9AF112N, MB9AF114L, MB9AF114M, MB9AF114N, MB9AF115M, MB9AF115N, MB9AF116M, MB9AF116N, MB9AF131K, MB9AF131L, MB9AF132K, MB9AF132L, MB9AF141L, MB9AF141M, MB9AF141N, MB9AF142L, MB9AF142M, MB9AF142N, MB9AF144L, MB9AF144M, MB9AF144N, MB9AF154M, MB9AF154N, MB9AF154R, MB9AF155M, MB9AF155N, MB9AF155R, MB9AF156M, MB9AF156N, MB9AF156R, MB9AF311K, MB9AF311L, MB9AF311M, MB9AF311N, MB9AF312K, MB9AF312L, MB9AF312M, MB9AF312N, MB9AF314L, MB9AF314M, MB9AF314N, MB9AF315M, MB9AF315N, MB9AF316M, MB9AF316N, MB9AF341L, MB9AF341M, MB9AF341N, MB9AF342L, MB9AF342M, MB9AF342N, MB9AF344L, MB9AF344M, MB9AF344N, MB9AFA31L, MB9AFA31M, MB9AFA31N, MB9AFA32L, MB9AFA32M, MB9AFA32N, MB9AFB41L, MB9AFB41M, MB9AFB41N, MB9AFB42L, MB9AFB42M, MB9AFB42N, MB9AFB44L, MB9AFB44M, MB9AFB44N, MB9BF104N, MB9BF104R, MB9BF105N, MB9BF105R, MB9BF106N, MB9BF106R, MB9BF112R, MB9BF114R, MB9BF115R, MB9BF116R, MB9BF116S, MB9BF116T, MB9BF117S, MB9BF117T, MB9BF118S, MB9BF118T, MB9BF121J, MB9BF121K, MB9BF121L, MB9BF121M, MB9BF122K, MB9BF122L, MB9BF122M, MB9BF124K, MB9BF124L, MB9BF124M, MB9BF216S, MB9BF216T, MB9BF217S, MB9BF217T, MB9BF218S, MB9BF218T, MB9BF304N, MB9BF304R, MB9BF305N, MB9BF305R, MB9BF306N, MB9BF306R, MB9BF312N, MB9BF312R, MB9BF314N, MB9BF314R, MB9BF315N, MB9BF315R, MB9BF316N, MB9BF316R, MB9BF316S, MB9BF316T, MB9BF317S, MB9BF317T, MB9BF318S, MB9BF318T, MB9BF321K, MB9BF321L, MB9BF321M, MB9BF322K, MB9BF322L, MB9BF322M, MB9BF324K, MB9BF324L, MB9BF324M, MB9BF404N, MB9BF404R, MB9BF405N, MB9BF405R, MB9BF406N, MB9BF406R, MB9BF412R, MB9BF414R, MB9BF415R, MB9BF416R, MB9BF416S, MB9BF416T, MB9BF417S, MB9BF417T, MB9BF418S, MB9BF418T, MB9BF500N, MB9BF500R, MB9BF504N, MB9BF504R, MB9BF505N, MB9BF505R, MB9BF506N, MB9BF506R, MB9BF512N, MB9BF512R, MB9BF514N, MB9BF514R, MB9BF515N, MB9BF515R, MB9BF516N, MB9BF516R, MB9BF516S, MB9BF516T, MB9BF517S, MB9BF517T, MB9BF518S, MB9BF518T, MB9BF521K, MB9BF521L, MB9BF521M, MB9BF522K, MB9BF522L, MB9BF522M, MB9BF524K, MB9BF524L, MB9BF524M, MB9BF616S, MB9BF616T, MB9BF617S, MB9BF617T, MB9BF618S, MB9BF618T, MB9BFD16S, MB9BFD16T, MB9BFD17S, MB9BFD17T, MB9BFD18S, MB9BFD18T
STMicroelectronics (8051 Family)
uPSD3312D, uPSD3312DV, uPSD3333D, uPSD3333DV, uPSD3334D, uPSD3334DV, uPSD3354D, uPSD3354DV, uPSD3422E, uPSD3422EV, uPSD3433E, uPSD3433EV, uPSD3434E, uPSD3434EV, uPSD3454E, uPSD3454EV
STMicroelectronics (ARM7/ARM9/Cortex Family)
STA2051, STM32F050C4, STM32F050C6, STM32F050F4, STM32F050F6, STM32F050G4, STM32F050G6, STM32F050K4, STM32F050K6, STM32F051C4, STM32F051C6, STM32F051C8, STM32F051K4, STM32F051K6, STM32F051K8, STM32F051R4, STM32F051R6, STM32F051R8, STM32F100C4, STM32F100C6, STM32F100C8, STM32F100CB, STM32F100R4, STM32F100R6, STM32F100R8, STM32F100RB, STM32F100RC, STM32F100RD, STM32F100RE, STM32F100V8, STM32F100VB, STM32F100VC, STM32F100VD, STM32F100VE, STM32F100ZC, STM32F100ZD, STM32F100ZE, STM32F101C4, STM32F101C6, STM32F101C8, STM32F101CB, STM32F101R4, STM32F101R6, STM32F101R8, STM32F101RB, STM32F101RC, STM32F101RD, STM32F101RE, STM32F101RF, STM32F101RG, STM32F101T4, STM32F101T6, STM32F101T8, STM32F101TB, STM32F101V8, STM32F101VB, STM32F101VC, STM32F101VD, STM32F101VE, STM32F101VF, STM32F101VG, STM32F101ZC, STM32F101ZD, STM32F101ZE, STM32F101ZF, STM32F101ZG, STM32F102C4, STM32F102C6, STM32F102C8, STM32F102CB, STM32F102R4, STM32F102R6, STM32F102R8, STM32F102RB, STM32F103C4, STM32F103C6, STM32F103C8, STM32F103CB, STM32F103R4, STM32F103R6, STM32F103R8, STM32F103RB, STM32F103RC, STM32F103RD, STM32F103RE, STM32F103RF, STM32F103RG, STM32F103T4, STM32F103T6, STM32F103T8, STM32F103TB, STM32F103V8, STM32F103VB, STM32F103VC, STM32F103VD, STM32F103VE, STM32F103VF, STM32F103VG, STM32F103ZC, STM32F103ZD, STM32F103ZE, STM32F103ZF, STM32F103ZG, STM32F105R8, STM32F105RB, STM32F105RC, STM32F105V8, STM32F105VB, STM32F105VC, STM32F107RB, STM32F107RC, STM32F107VB, STM32F107VC, STM32F205RB, STM32F205RC, STM32F205RE, STM32F205RF, STM32F205RG, STM32F205VB, STM32F205VC, STM32F205VE, STM32F205VF, STM32F205VG, STM32F205ZC, STM32F205ZE, STM32F205ZF, STM32F205ZG, STM32F207IC, STM32F207IE, STM32F207IF, STM32F207IG, STM32F207VC, STM32F207VE, STM32F207VF, STM32F207VG, STM32F207ZC, STM32F207ZE, STM32F207ZF, STM32F207ZG, STM32F215RE, STM32F215RG, STM32F215VE, STM32F215VG, STM32F215ZE, STM32F215ZG, STM32F217IE, STM32F217IG, STM32F217VE, STM32F217VG, STM32F217ZE, STM32F217ZG, STM32F302CB, STM32F302CC, STM32F302RB, STM32F302RC, STM32F302VB, STM32F302VC, STM32F303CB, STM32F303CC, STM32F303RB, STM32F303RC, STM32F303VB, STM32F303VC, STM32F313CC, STM32F313RC, STM32F313VC, STM32F372C8, STM32F372CB, STM32F372CC, STM32F372R8, STM32F372RB, STM32F372RC, STM32F372V8, STM32F372VB, STM32F372VC, STM32F373C8, STM32F373CB, STM32F373CC, STM32F373R8, STM32F373RB, STM32F373RC, STM32F373V8, STM32F373VB, STM32F373VC, STM32F383CC, STM32F383RC, STM32F383VC, STM32F405OE, STM32F405OG, STM32F405RG, STM32F405VG, STM32F405ZG, STM32F407IE, STM32F407IG, STM32F407VE, STM32F407VG, STM32F407ZE, STM32F407ZG, STM32F415OG, STM32F415RG, STM32F415VG, STM32F415ZG, STM32F417IE, STM32F417IG, STM32F417VE, STM32F417VG, STM32F417ZE, STM32F417ZG, STM32F427IG, STM32F427II, STM32F427VG, STM32F427VI, STM32F427ZG, STM32F427ZI, STM32F429BG, STM32F429BI, STM32F429IG, STM32F429II, STM32F429NG, STM32F429NI, STM32F429VG, STM32F429VI, STM32F429ZG, STM32F429ZI, STM32F437IG, STM32F437II, STM32F437VG, STM32F437VI, STM32F437ZG, STM32F437ZI, STM32F439BG, STM32F439BI, STM32F439IG, STM32F439II, STM32F439NG, STM32F439NI, STM32F439VG, STM32F439VI, STM32F439ZG, STM32F439ZI, STM32L151C6, STM32L151C8, STM32L151CB, STM32L151QC, STM32L151QD, STM32L151R6, STM32L151R8, STM32L151RB, STM32L151RC, STM32L151RD, STM32L151V8, STM32L151VB, STM32L151VC, STM32L151VD, STM32L151ZC, STM32L151ZD, STM32L152C6, STM32L152C8, STM32L152CB, STM32L152QC, STM32L152QD, STM32L152R6, STM32L152R8, STM32L152RB, STM32L152RC, STM32L152RD, STM32L152V8, STM32L152VB, STM32L152VC, STM32L152VD, STM32L152ZC, STM32L152ZD, STM32L162QD, STM32L162RD, STM32L162VD, STM32L162ZD, STM32W108C8, STM32W108CB, STM32W108CC, STM32W108CZ, STM32W108HB, STR710FZ1, STR710FZ2, STR711FR0, STR711FR1, STR711FR2, STR712FR0, STR712FR1, STR712FR2, STR715FR0, STR730FZ1, STR730FZ2, STR731FV0, STR731FV1, STR731FV2, STR735FZ1, STR735FZ2, STR736FV0, STR736FV1, STR750FL2, STR750FV0, STR750FV1, STR750FV2, STR751FR0, STR751FR1, STR751FR2, STR752FR0, STR752FR1, STR752FR2, STR755FR0, STR755FR1, STR755FR2, STR755FV0, STR755FV1, STR755FV2, STR910FAM32, STR910FAW32, STR910FAZ32, STR910FM32, STR910FW32, STR911FAM42, STR911FAM44, STR911FAM46, STR911FAM47, STR911FAW42, STR911FAW44, STR911FAW46, STR911FAW47, STR911FM42, STR911FM44, STR912FAW42, STR912FAW44, STR912FAW46, STR912FAW47, STR912FAZ42, STR912FAZ44, STR912FAZ46, STR912FAZ47, STR912FW42, STR912FW44
Texas Instruments (ARM7/ARM9/Cortex Family)
LM3S101, LM3S102, LM3S1110, LM3S1133, LM3S1138, LM3S1150, LM3S1162, LM3S1165, LM3S1166, LM3S1332, LM3S1435, LM3S1439, LM3S1512, LM3S1538, LM3S1601, LM3S1607, LM3S1608, LM3S1620, LM3S1621, LM3S1625, LM3S1626, LM3S1627, LM3S1635, LM3S1636, LM3S1637, LM3S1651, LM3S1751, LM3S1776, LM3S1811, LM3S1816, LM3S1850, LM3S1911, LM3S1918, LM3S1937, LM3S1958, LM3S1960, LM3S1968, LM3S1969, LM3S1B21, LM3S1C21, LM3S1C26, LM3S1C58, LM3S1D21, LM3S1D26, LM3S1F11, LM3S1F16, LM3S1G21, LM3S1G58, LM3S1H11, LM3S1H16, LM3S1J11, LM3S1J16, LM3S1N11, LM3S1N16, LM3S1P51, LM3S1R21, LM3S1R26, LM3S1W16, LM3S1Z16, LM3S2110, LM3S2139, LM3S2276, LM3S2410, LM3S2412, LM3S2432, LM3S2533, LM3S2601, LM3S2608, LM3S2616, LM3S2620, LM3S2637, LM3S2651, LM3S2671, LM3S2678, LM3S2730, LM3S2739, LM3S2776, LM3S2793, LM3S2911, LM3S2918, LM3S2919, LM3S2939, LM3S2948, LM3S2950, LM3S2965, LM3S2B93, LM3S2D93, LM3S2U93, LM3S300, LM3S301, LM3S308, LM3S310, LM3S315, LM3S316, LM3S317, LM3S328, LM3S3634, LM3S3651, LM3S3654, LM3S3739, LM3S3748, LM3S3749, LM3S3826, LM3S3J26, LM3S3N26, LM3S3W26, LM3S3Z26, LM3S5632, LM3S5651, LM3S5652, LM3S5656, LM3S5662, LM3S5732, LM3S5737, LM3S5739, LM3S5747, LM3S5749, LM3S5752, LM3S5762, LM3S5791, LM3S5951, LM3S5956, LM3S5B91, LM3S5C31, LM3S5C36, LM3S5C51, LM3S5C56, LM3S5D51, LM3S5D56, LM3S5D91, LM3S5G31, LM3S5G36, LM3S5G51, LM3S5G56, LM3S5K31, LM3S5K36, LM3S5P31, LM3S5P36, LM3S5P3B, LM3S5P51, LM3S5P56, LM3S5R31, LM3S5R36, LM3S5T36, LM3S5U91, LM3S5Y36, LM3S600, LM3S601, LM3S608, LM3S610, LM3S6100, LM3S611, LM3S6110, LM3S612, LM3S613, LM3S615, LM3S617, LM3S618, LM3S628, LM3S6420, LM3S6422, LM3S6432, LM3S6537, LM3S6610, LM3S6611, LM3S6618, LM3S6633, LM3S6637, LM3S6730, LM3S6753, LM3S6911, LM3S6918, LM3S6938, LM3S6950, LM3S6952, LM3S6965, LM3S6C11, LM3S6C65, LM3S6G11, LM3S6G65, LM3S800, LM3S801, LM3S808, LM3S811, LM3S812, LM3S815, LM3S817, LM3S818, LM3S828, LM3S8530, LM3S8538, LM3S8630, LM3S8730, LM3S8733, LM3S8738, LM3S8930, LM3S8933, LM3S8938, LM3S8962, LM3S8970, LM3S8971, LM3S8C62, LM3S8G62, LM3S9781, LM3S9790, LM3S9792, LM3S9971, LM3S9997, LM3S9B81, LM3S9B90, LM3S9B92, LM3S9B95, LM3S9B96, LM3S9BN2, LM3S9BN5, LM3S9BN6, LM3S9C97, LM3S9CN5, LM3S9D81, LM3S9D90, LM3S9D92, LM3S9D95, LM3S9D96, LM3S9DN5, LM3S9DN6, LM3S9G97, LM3S9GN5, LM3S9L71, LM3S9L97, LM3S9U81, LM3S9U90, LM3S9U92, LM3S9U95, LM3S9U96, TM4C1230C3PM, TM4C1230D5PM, TM4C1230E6PM, TM4C1230H6PM, TM4C1231C3PM, TM4C1231D5PM, TM4C1231D5PZ, TM4C1231E6PM, TM4C1231E6PZ, TM4C1231H6PGE, TM4C1231H6PM, TM4C1231H6PZ, TM4C1232C3PM, TM4C1232D5PM, TM4C1232E6PM, TM4C1232H6PM, TM4C1233C3PM, TM4C1233D5PM, TM4C1233D5PZ, TM4C1233E6PM, TM4C1233E6PZ, TM4C1233H6PGE, TM4C1233H6PM, TM4C1233H6PZ, TM4C1236D5PM, TM4C1236E6PM, TM4C1236H6PM, TM4C1237D5PM, TM4C1237D5PZ, TM4C1237E6PM, TM4C1237E6PZ, TM4C1237H6PGE, TM4C1237H6PM, TM4C1237H6PZ, TM4C123AE6PM, TM4C123AH6PM, TM4C123BE6PM, TM4C123BE6PZ, TM4C123BH6PGE, TM4C123BH6PM, TM4C123BH6PZ, TM4C123BH6ZRB, TM4C123FE6PM, TM4C123FH6PM, TM4C123GE6PM, TM4C123GE6PZ, TM4C123GH6PGE, TM4C123GH6PM, TM4C123GH6PZ, TM4C123GH6ZRB, TMS470MF03107, TMS470MF04207, TMS470MF06607, TMS470R1A128, TMS470R1A256, TMS470R1A288, TMS470R1A384, TMS470R1A64, TMS470R1B1M, TMS470R1B512, TMS470R1B768
Toshiba (ARM7/ARM9/Cortex Family)
TMPA900CMXBG, TMPA910CRAXBG, TMPM061FWFG, TMPM320C1DFG, TMPM321F10FG, TMPM322F10FG, TMPM323F10FG, TMPM324F10FG, TMPM330FDFG, TMPM330FWFG, TMPM330FYFG, TMPM332FWUG, TMPM333FDFG, TMPM333FWFG, TMPM333FYFG, TMPM341FDXBG, TMPM341FYXBG, TMPM342FYXBG, TMPM343F10XBG, TMPM343FDXBG, TMPM343FEXBG, TMPM360F20FG, TMPM361F10FG, TMPM362F10FG, TMPM363F10FG, TMPM364F10FG, TMPM365FYXBG, TMPM366FDFG, TMPM366FWFG, TMPM366FYFG, TMPM367FDFG, TMPM368FDFG, TMPM369FDFG, TMPM369FDXBG, TMPM369FYFG, TMPM369FYXBG, TMPM36BFYFG, TMPM370FYDFG, TMPM370FYFG, TMPM372FWUG, TMPM373FWDUG, TMPM374FWUG, TMPM375FSDMG, TMPM376FDDFG, TMPM376FDFG, TMPM380FDFG, TMPM380FWDFG, TMPM380FWFG, TMPM380FYDFG, TMPM380FYFG, TMPM382FSFG, TMPM382FWFG, TMPM384FDFG, TMPM390FWFG, TMPM395FWAXBG, TMPM440F10XBG, TMPM440FEXBG
Triad Semiconductor (ARM7/ARM9/Cortex Family)
TSX-1001
WIZnet (ARM7/ARM9/Cortex Family)
W7200
Zilog (ARM7/ARM9/Cortex Family)
ZA9L