Infrared Non-contact Temperature Sensing Module - MLX90614
Infrared Contact less Thermometer range -70 to +380 Degree C
Infrared Non-contact Temperature Sensing Module - MLX90614
Sunrom Product Code for Ordering:
3810
The MLX90614 is an Infra Red thermometer for non contact temperature measurements. Both the IR sensitive thermopile detector chip and the signal conditioning ASIC are integrated in the same TO-39 can. Integrated into the MLX90614 are a low noise amplifier, 17-bit ADC and powerful DSP unit thus achieving high accuracy and resolution of the thermometer.

The thermometer comes factory calibrated with a digital SMBus output giving full access to the measured temperature in the complete temperature range(s) with a resolution of 0.02°C.

The user can configure the digital output to be PWM. As a standard, the 10-bit PWM is configured to continuously transmit the measured temperature in range of -20 to 120 °C, with an output resolution of 0.14 °C.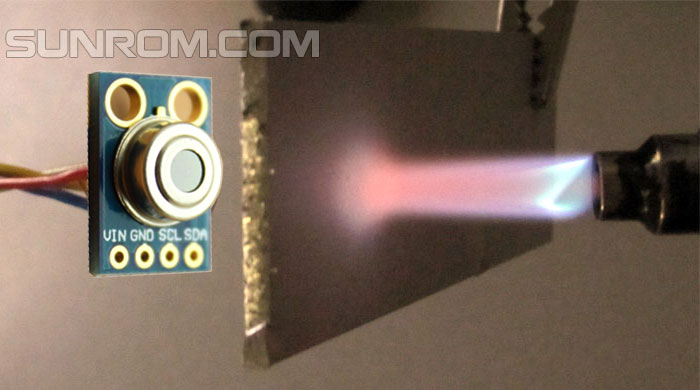 Module Features
Works from 3.3V to 5V input, Module has power regulator IC built in.
Standard I2C interface with built 2x pull up resistors
Operating Voltage: 3V- 5V
Operating Current: 2mA
Communication protocol: I2C.
Sensor working temperature: -40 to +125 Degree C
Sensing temperature range: -70 to +380 Degree C
When measuring the tempeature, please maintain a measuring distance of 1 cm
PCB dimensions 11mm x 17 mm
Board Schematic
MLX90614 Features and Benefits
Small size, low cost
Easy to integrate
Factory calibrated in wide temperature range: -40 to 125 °C for sensor temperature and -70 to 380 °C for object temperature.
High accuracy of 0.5°C over wide temperature range (0..+50 C for both Ta and To)
Medical accuracy of 0.1°C in a limited temperature range available on request
Measurement resolution of 0.01°C
SMBus compatible digital interface for fast temperature readings and building sensor networks
Customizable PWM output for continuous reading
Simple adaptation for 8 to 16V applications
Power saving mode
Automotive grade
Applications
High precision non-contact temperature measurements
Thermal Comfort sensor for Mobile Air Conditioning control system
Temperature sensing element for residential,commercial and industrial building air conditioning Wind shield defogging
Automotive blind angle detection
Industrial temperature control of moving parts
Temperature control in printers and copiers
Home appliances with temperature control
Healthcare
Livestock monitoring
Movement detection
Multiple zone temperature control – up to 127sensors can be read via common 2 wires
Thermal relay / alert
Body temperature measurement
Related Links