Microchip's SST89E516RD-40-C-PIE, Replacement for NXP's P89V51RD2, Do not need programmer.
Pin to pin and Code to code equivalent with old discontinued NXP's P89V51RD2. And, it does not need programmer since it has built in bootloader. It can be programmed by its UART connection and software on PC called Easy IAP.
The IC is supported in Keil C51 as SST89x516RD2 for compiling and simulation.
Its industry standard practice to do development of 8051 with such IC and later on use cheaper ICs like AT89S52/AT89C51 for production unless you need real big flash like 64kb.
Specifications
| | |
| --- | --- |
| Parameter Name | Value |
| Program Memory Type | Flash |
| Program Memory (KB) | 72(64+8) |
| CPU Speed (MIPS) | 10 |
| RAM Bytes | 1,024 |
| Data EEPROM (bytes) | 64 |
| Timers | 3 x 16-bit |
| Temperature Range (C) | -40 to 85 |
| Operating Voltage Range (V) | 4.4 to 5.5 |
How to use software to program.
Connect your device's UART to PC's Serial port either using a MAX232 or USB-TTL adapter. Make sure the COM port on PC is between COM1 to COM6 from device manager if not already between COM1-6, else software cannot connect.
Now open options and select that COM port and device.
Click Connect, click OK and press reset switch on your MCU.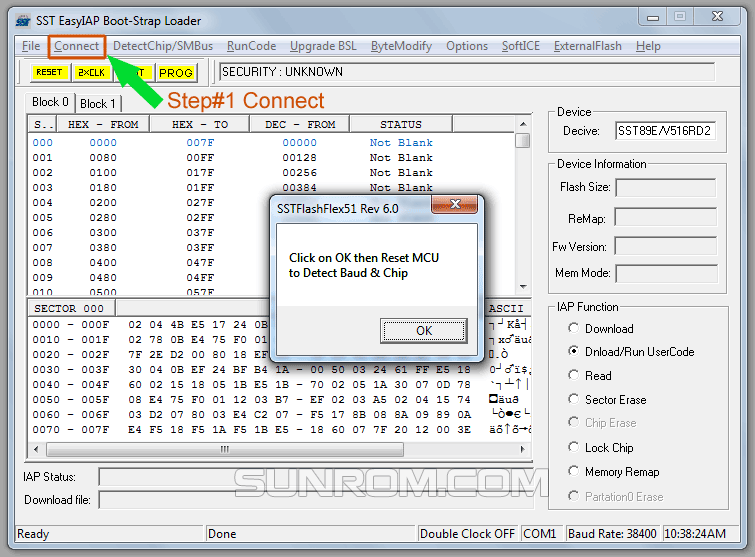 Device gets detected if everything is ok.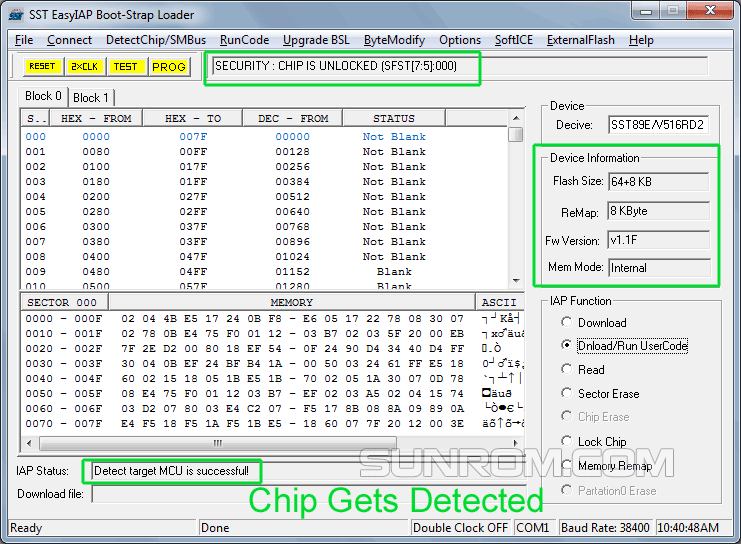 Click Download/Run code or Download option, it will ask for file to program, once you click ok, it will start erasing and writing.