SOFI SP8 is professional programmers specially for programming serial FLASH/EEPROM/SPI memories, with built-in 32-bit high speed processors and USB2.0 communication interfaces. It supports high-speed programming of nearly all 24/25/93/BR90 chips. In the number of supportive serial memories and the writing speed, it greatly exceeds most general and similar special programmers that cost a lot. It has a unique function of ISP online programming and supports more chips with continuous software upgrade. With exquisite shells made through professional mould opening and with advanced software/hardware design, SP8 series overtakes other similar products in both exterior and inner quality.
Performance and Characters
● USB2.0 communication interfaces (real USB interfaces, not USB to serial ports or simulated USB ports)
● Exquisite plastic mould, small size: 103x71x23mm, and convenient to use and carry
● SP8 Fully supports WinXP/Vista/Win7/Win10, and perfectly combines 32-/64-bit systems
● Has built-in 32-bit high-speed processors, designed specially for serial memories, achieving high-speed and appropriate programming, and has the highest programming speed
● Supports nearly all 93/24/25/BR90 memories, and supports more chips through software upgrade.
● Unique ISP download ports and 10PIN color ISP download cable. On-board patch chips (such as main-board BIOS with SPI interface) can be directly connected to be programming.
● Standard 40Pin locking beds with zero insertion force, applicable to wide/narrow chips and general adapters
● Supports contact detection for pins, and improves reliability of programming
● Perfect over-current and ESD protections, and protection against accidental damages of programmers and computer USB ports
● With mass production programming, it automatically detects the position of chips and then starts programming
● Supports mass asynchronous programming via connecting several programmers to one computer. Plug and write. No synchronous waiting. Top speed and high efficiency
● You can choose offline programming: built-in 128Mbit data memories achieve different kinds of field programming without connection to a computer, and LED and buzzer present auditory signals of success or failure
● It operates easy and you can perform mass programming
● Supports low-voltage (3.3V) and 5V chips
● Provides self-detection for devices
USB2.0 Interface
● USB2.0 interface combines USB1.1
● Its power supply needs no extra power adapters, and thus is simple and convenient
● Its special USB2.0 chips are not simulated USB or USB to serial ports, and thus ensure the stability and speed of programming
● Its in-built ESD protects circuit, prevents programmers and computer interfaces from induction voltage and static electricity of computer shells, and thus improves the stability and security of programming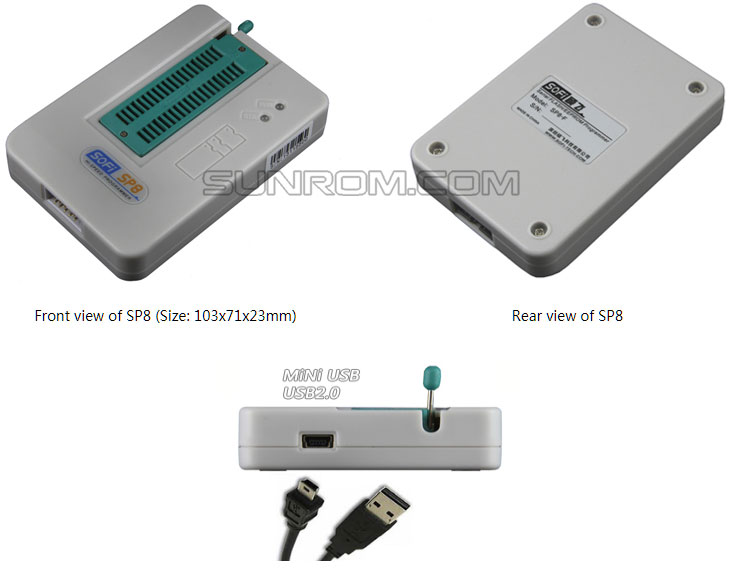 Built-in 32-bit high-speed processors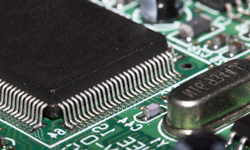 ● The hardware of the built-in 32-bit high-speed processors is optimized specially for SPI Flash and Serial EEPROM, and thus ensures stable and high-speed reading and writing.
● The programming process of all chips is completed by the built-in processors, without influence from computer master frequency.
● High-speed processors are a guarantee for speedy and efficient programming, and special hardware design is also a premise for speed and stability
High-speed programming
● SP8 is currently the programmers with the highest programming speed in the industry, even quicker than general programmers and similar special programmers which cost a lot.
(Take 8M-bit EN25T80 as an example, SP8-A: read-1.24S, write-5.44S; Superpro 580U: read-4.15S, write-9.31S)
● Through built-in high-speed processors and special hardware design, SP8 realizes high-speed and reliable programming, especially for serial FLASH and EEPROM.
● Arithmetic optimizations for different chips

Table: reading and writing times of some chips
| | | | | |
| --- | --- | --- | --- | --- |
| Chip types | Size | Writing | Reading | Verify |
| EN25T80 | 8M bit | 5.4S | 1.2S | 1.2S |
| SST25VF010A | 1M bit | 4.2S | 0.6S | 0.6S |
| W25X16 | 16M bit | 7.6S | 2.3S | 2.3S |
| KH25L8005 | 8M bit | 4.3S | 1.3S | 1.3S |
| AT24C512 | 512K bit | 5.8S | 3.6S | 3.6S |
| AT24C256 | 256K bit | 3.0S | 1.8S | 1.8S |
| ST25P16 [SOP8] | 16M bit | 7.3S | 2.3S | 2.3S |
| W25X32 | 32M bit | 20.8S | 4.9S | 4.9S |
| SST25VF080B | 8M bit | 6.9S | 2.4S | 2.4S |
| W25X80 | 8M bit | 8.6S | 1.3S | 1.3S |

Intelligent pin detection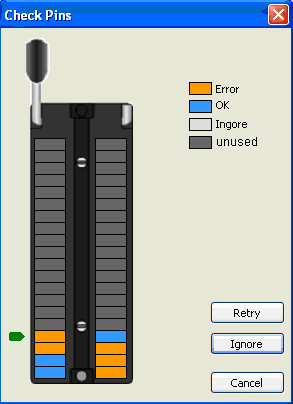 ● The whole SP8 series has the function of intelligent pin detection.
● Pin detection can effectively avoid failure or low success of programming caused by oxidation or misplacement of chips or problems from the adapters, and thus improves the efficiency of programming.
● It presents via pictures the contact information of pins, like bad contact, fine contact, not used, and ignored
Protection against over-current and short circuit
● With perfect system of over-current detection and short circuit protection
● Effectively protects programmers from damages of misplaced chips (wrong position or direction), or wrong types of chips, or short circuit of chips or adapters
● You do not have to worry that the chips might be burnt due to damages of misplaced chips (wrong position or direction), or wrong types of chips
● ISP interfaces also have protection function against over-current and short circuit, and automatically detect the supply conflicts of target boards (or target chips)
40 PIN general ZIF socket
● Adopts 40 PIN ZIF socket for wide/narrow dual purposes.
● Can be directly applied to inline chips with eight to sixteen pins.
● Can directly use any general adapter, with a pin width of either 300mil or 600mil.
● Can directly use an adapter with up to 40 pins.
Support online programming(ISP)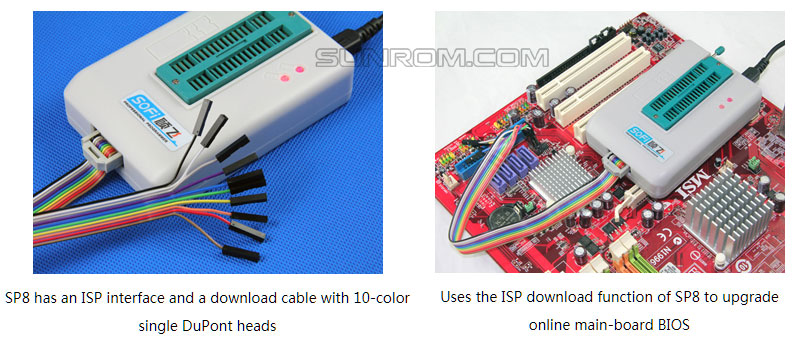 ● Some patch chips can be programmed directly via ISP, avoiding the problem of unsoldering.
● The whole SP8 series has special ISP interfaces buffered with special chips, and supports 2.0V~5.5V target boards (chips).
ISP interfaces can be set up via software whether to supply power to the target boards (voltage can be set at 3.3V or 5V).
● ISP power supply has protection function against over-current and short circuit, automatically detects the supply situation of target boards and thus avoids power supply conflicts.
● It can be used to online upgrade of main-board BIOS (application example: Use SP8-A programmer to upgrade online BIOS of MSI MS-7392 main-board;
Powerful Software - FlyPRO
● English interface
● Supports WinXP/Vista/Win7/Win10, and completely supports 64-bit operating systems
● Supports various file formats like binary (files with any suffix), hex, Motorola-S and TI-TEK
● Multi-functional data buffer compilation, supporting direct modification by keyboard, and copying, filling and logical operation. Supports hex and ASCII displays
● Provides chip placement mode, adapter and ISP connection diagram
● Combines manual programming and user-defined automatic programming with one key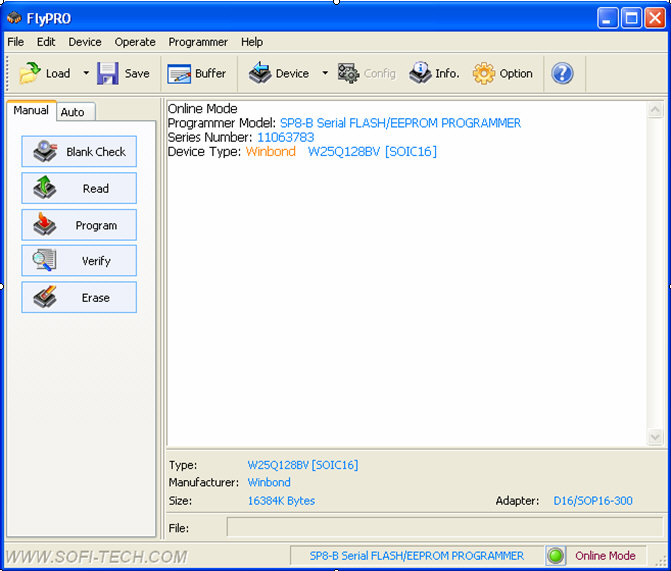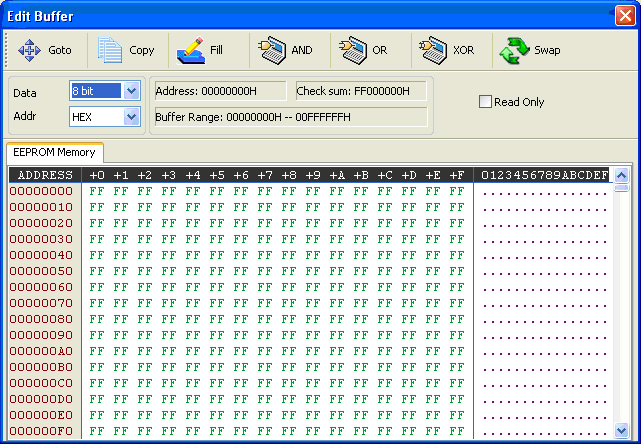 Supported Device List
| | |
| --- | --- |
| Programmer Model: | SP8-A Serial EEPROM / Flash Programmer |
| Total Manufacturers: | 116 |
| Total Devices: | 6903 |
| Update date: | 2017-12-13 16:45:24 |
---- [Serial EEPROM]
24C02
24C02 [SOP8]
24C04
24C04 [SOP8]
24C08
24C08 [SOP8]
24C16
24C16 [SOP8]
24C32
24C32 [SOP8]
24C64
24C64 [SOP8]
24C128
24C128 [SOP8]
24C256
24C256 [SOP8]
24C512
24C512 [SOP8]
93C46(x8)
93C46(x8) [SOP8]
93C46(x8) [ISP]
93C46(x16)
93C46(x16) [SOP8]
93C46(x16) [ISP]
93C56(x8)
93C56(x8) [SOP8]
93C56(x8) [ISP]
93C56(x16)
93C56(x16) [SOP8]
93C56(x16) [ISP]
93C66(x8)
93C66(x8) [SOP8]
93C66(x8) [ISP]
93C66(x16)
93C66(x16) [SOP8]
93C66(x16) [ISP]
ACE Technology [Serial EEPROM]
ACE24C02
ACE24C02 [SOP8]
ACE24C02 [TSSOP8]
ACE24C04
ACE24C04 [SOP8]
ACE24C04 [TSSOP8]
ACE24C08
ACE24C08 [SOP8]
ACE24C08 [TSSOP8]
ACE24C08A
ACE24C08A [SOP8]
ACE24C08A [TSSOP8]
ACE24C16
ACE24C16 [SOP8]
ACE24C16 [TSSOP8]
ACE24C32
ACE24C32 [SOP8]
ACE24C32 [TSSOP8]
ACE24C32A
ACE24C32A [SOP8]
ACE24C32A [TSSOP8]
ACE24C64
ACE24C64 [SOP8]
ACE24C64 [TSSOP8]
ACE24C64A
ACE24C64A [SOP8]
ACE24C64A [TSSOP8]
ACE24C128
ACE24C128 [SOP8]
ACE24C128 [TSSOP8]
ACE24C256
ACE24C256 [SOP8]
ACE24C256 [TSSOP8]
ACE24LC02
ACE24LC02 [SOP8]
ACE24LC02 [TSSOP8]
ACE24LC04
ACE24LC04 [SOP8]
ACE24LC04 [TSSOP8]
ACE24LC08
ACE24LC08 [SOP8]
ACE24LC08 [TSSOP8]
ACE24LC08A
ACE24LC08A [SOP8]
ACE24LC08A [TSSOP8]
ACE24LC16
ACE24LC16 [SOP8]
ACE24LC16 [TSSOP8]
ACE Technology [Serial FLASH]
ACE25AC512G [SOP8]
ACE25AC100G [SOP8]
ACE25AC200G [SOP8]
ACE25C512G [SOP8]
ACE25C100G [SOP8]
ACE25C400G [SOP8-150]
ACE25C800G [SOP8-150]
ACE25C160G [SOP8]
ACE25C320G [SOP8]
Actrans [Serial EEPROM]
AC25LV512 [SO8]
AC25LV512 [ISP]
AC25LV010 [SO8]
AC25LV010 [ISP]
Adesto [Serial EEPROM]
RM24C32C [SOIC8]
RM24C32C [TSSOP8]
RM24C64C [SOIC8]
RM24C64C [TSSOP8]
RM24C128C [SOIC8]
RM24C128C [TSSOP8]
RM24C256C [SOIC8]
RM24C256C [TSSOP8]
RM24C512C [SOIC8]
RM24C512C [TSSOP8]
Adesto [Serial FLASH]
AT25DF256 [SOIC8]
AT25DF512C [SOIC8]
AT25DF011 [SOIC8]
AT25DF021A [SOIC8]
AT25DF041B [SOIC8]
AT25DF081A [SOIC8-208]
AT25DF321A [SOIC8]
AT25DN256 [SOIC8]
AT25DN512C [SOIC8]
AT25DN011 [SOIC8]
AT25SF041 [SOIC8-150]
AT25SF041 [SOIC8-208]
AT25SF041 [DFN8 5*6]
AT25SF041 [DFN8 2*3]
AT25SF081 [SOIC8-150]
AT25SF081 [SOIC8-208]
AT25SF161 [SOIC8-150]
AT25SF161 [SOIC8-208]
AT25SF321 [SOIC8-150]
AT25SF321 [SOIC8-208]
AiT [Serial EEPROM]
A24C02
A24C02 [SOP8]
A24C02 [TSSOP8]
A24C04
A24C04 [SOP8]
A24C04 [TSSOP8]
A24C08
A24C08 [SOP8]
A24C08 [TSSOP8]
A24C16
A24C16 [SOP8]
A24C16 [TSSOP8]
A24C32
A24C32 [SOP8]
A24C32 [TSSOP8]
A24C64
A24C64 [SOP8]
A24C64 [TSSOP8]
A24C128
A24C128 [SOP8]
A24C128 [TSSOP8]
A24C256
A24C256 [SOP8]
A24C256 [TSSOP8]
A93C46(x8)
A93C46(x8) [SOP8]
A93C46(x8) [TSSOP8]
A93C46(x16)
A93C46(x16) [SOP8]
A93C46(x16) [TSSOP8]
A93C56(x8)
A93C56(x8) [SOP8]
A93C56(x8) [TSSOP8]
A93C56(x16)
A93C56(x16) [SOP8]
A93C56(x16) [TSSOP8]
A93C66(x8) [SOP8]
A93C66(x8) [TSSOP8]
A93C66(x16) [SOP8]
A93C66(x16) [TSSOP8]
AKM [Serial EEPROM]
AK6416A [SSOP8]
AK6420A
AK6420AF [SOP8]
AK6420AM [SSOP8]
AK6440A
AK6440AF [SOP8]
AK6440AM [SSOP8]
AK6480A
AK6480AF [SOP8]
AK6480AM [SSOP8]
AK93C41A [TSSOP8]
AK93C45ANF [SOP8]
AK93C45AV [TSSOP8]
AK93C45BH [MSOP8]
AK93C46
AK93C51A [TSSOP8]
AK93C55ANF [SOP8]
AK93C55AV [TSSOP8]
AK93C55BH [MSOP8]
AK93C56
AK93C61A [TSSOP8]
AK93C65ANF [SOP8]
AK93C65AV [TSSOP8]
AK93C65BH [MSOP8]
AK93C75ANF [SOP8]
AK93C75AV [TSSOP8]
AK93C75BH [MSOP8]
AK93C85AF [SOP8]
AK93C85AM [SSOP8]
AMIC [Serial FLASH]
A25LQ32A
A25LQ32A [SOP8]
Anachip [Serial EEPROM]
AM24LC02
AM24LC02 [SOIC8]
AM24LC02 [TSSOP8]
AM24LC04
AM24LC04 [SOIC8]
AM24LC04 [TSSOP8]
AM24LC08
AM24LC08 [SOIC8]
AM24LC16
AM24LC16 [SOIC8]
AM93LC46
AM93LC46 [SOIC8]
AM93LC56(x8)
AM93LC56(x8) [SOIC8]
AM93LC56(x16)
AM93LC56(x16) [SOIC8]
AM93LC66(x8)
AM93LC66(x8) [SOIC8]
AM93LC66(x16)
AM93LC66(x16) [SOIC8]
AM93LC86(x8)
AM93LC86(x8) [SOIC8]
AM93LC86(x8) [TSSOP8]
AM93LC86(x16)
AM93LC86(x16) [SOIC8]
AM93LC86(x16) [TSSOP8]
APLUS [Serial EEPROM]
AF24BC01
AF24BC01 [SOIC8]
AF24BC01 [TSSOP8]
AF24BC02
AF24BC02 [SOIC8]
AF24BC02 [TSSOP8]
AF24BC04
AF24BC04 [SOIC8]
AF24BC04 [TSSOP8]
AF24BC08
AF24BC08 [SOIC8]
AF24BC08 [TSSOP8]
AF24BC16
AF24BC16 [SOIC8]
AF24BC16 [TSSOP8]
AF24BC32
AF24BC32 [SOIC8]
AF24BC32 [TSSOP8]
AF24BC64
AF24BC64 [SOIC8]
AF24BC64 [TSSOP8]
AF24BC128
AF24BC128 [SOIC8]
AF24BC128 [TSSOP8]
AF24BC256
AF24BC256 [SOIC8]
AF24BC256 [TSSOP8]
AF93BC46(x8)
AF93BC46(x8) [SOIC8]
AF93BC46((x8) [TSSOP8]
AF93BC46(x16)
AF93BC46(x16) [SOIC8]
AF93BC46(x16) [TSSOP8]
AF93BC56(x8)
AF93BC56(x8) [SOIC8]
AF93BC56(x8) [TSSOP8]
AF93BC56(x16)
AF93BC56(x16) [SOIC8]
AF93BC56(x16) [TSSOP8]
AF93BC66(x8)
AF93BC66(x8) [SOIC8]
AF93BC66(x8) [TSSOP8]
AF93BC66(x16)
AF93BC66(x16) [SOIC8]
AF93BC66(x16) [TSSOP8]
AF93BC86(x8)
AF93BC86(x8) [SOIC8]
AF93BC86(x8) [TSSOP8]
AF93BC86(x16)
AF93BC86(x16) [SOIC8]
AF93BC86(x16) [TSSOP8]
Artschip [Serial EEPROM]
24AA64
24AA64 [SOIC8-150]
24AA64 [SOIC8-208]
24AA128
24AA128 [SOIC8-150]
24AA128 [SOIC8-208]
24LC01B
24LC01B [MSOP8]
24LC01B [SOIC8]
24LC01B [TSSOP8]
24LC02B
24LC02B [MSOP8]
24LC02B [SOIC8]
24LC02B [TSSOP8]
24LC04B
24LC04B [MSOP8]
24LC04B [SOIC8]
24LC04B [TSSOP8]
24LC08B
24LC08B [MSOP8]
24LC08B [SOIC8]
24LC08B [TSSOP8]
24LC16B
24LC16B [MSOP8]
24LC16B [SOIC8]
24LC16B [TSSOP8]
24LC32B
24LC32B [SOIC8]
24LC32B [TSSOP8]
24LC64
24LC64 [SOIC8-250]
24LC64 [SOIC8-208]
24LC64B
24LC64B [SOIC8]
24LC64B [TSSOP8]
24LC128
24LC128 [SOIC8-150]
24LC128 [SOIC8-208]
ATC [Serial EEPROM]
24C02
24C02 [SOP8]
24C02W
24C02W [SOP8]
24C04
24C04 [SOP8]
24C04P
24C04P [SOP8]
24C08
24C08 [SOP8]
24LC02
24LC02 [SOP8]
24LC02W
24LC02W [SOP8]
24LC04
24LC04 [SOP8]
24LC08
24LC08 [SOP8]
93C46
93C46 [SOP8]
93C56
93C56 [SOP8]
93C66
93C66 [SOP8]
93LC46
93LC46 [SOP8]
93LC56(x8)
93LC56(x8) [SOP8]
93LC56(x16)
93LC56(x16) [SOP8]
93LC66(x8)
93LC66(x8) [SOP8]
93LC66(x16)
93LC66(x16) [SOP8]
ATMEL [Serial EEPROM]
AT24C01
AT24C01 [MSOP8]
AT24C01 [SOIC8]
AT24C01 [TSSOP8]
AT24C01A
AT24C01A [MSOP8]
AT24C01A [SOIC8]
AT24C01A [TSSOP8]
AT24C01B
AT24C01B [SOIC8]
AT24C01B [TSSOP8]
AT24C02
AT24C02 [SOIC8]
AT24C02 [MSOP8]
AT24C02 [TSSOP8]
AT24C02A
AT24C02A [SOIC8]
AT24C02A [TSSOP8]
AT24C02B
AT24C02B [SOIC8]
AT24C02B [TSSOP8]
AT24C02C
AT24C02C [SOIC8]
AT24C02C [TSSOP8]
AT24C04
AT24C04 [SOIC8]
AT24C04 [TSSOP8]
AT24C04A
AT24C04A [SOIC8]
AT24C04A [TSSOP8]
AT24C04B
AT24C04B [SOIC8]
AT24C04B [TSSOP8]
AT24C04C
AT24C04C [SOIC8]
AT24C04C [TSSOP8]
AT24C08
AT24C08 [SOIC8]
AT24C08 [TSSOP8]
AT24C08A
AT24C08A [SOIC8]
AT24C08A [TSSOP8]
AT24C08B
AT24C08B [SOIC8]
AT24C08B [TSSOP8]
AT24C08C
AT24C08C [SOIC8]
AT24C08C [TSSOP8]
AT24C11
AT24C11 [SOIC8]
AT24C11 [TSSOP8]
AT24C16
AT24C16 [SOIC8]
AT24C16 [TSSOP8]
AT24C164
AT24C164 [SOIC8]
AT24C16A
AT24C16A [SOIC8]
AT24C16A [TSSOP8]
AT24C16B
AT24C16B [SOIC8]
AT24C16B [TSSOP8]
AT24C16C
AT24C16C [SOIC8]
AT24C16C [TSSOP8]
AT24C21
AT24C21 [SOIC8]
AT24C32
AT24C32 [SOIC8-150]
AT24C32 [SOIC8-200]
AT24C32 [TSSOP8]
AT24C32A
AT24C32A [SOIC8-150]
AT24C32A [SOIC8-200]
AT24C32A [TSSOP8]
AT24C32B
AT24C32B [SOIC8]
AT24C32B [TSSOP8]
AT24C32C
AT24C32C [SOIC8]
AT24C32C [TSSOP8]
AT24C32D [SOIC8]
AT24C32D [TSSOP8]
AT24C64
AT24C64 [SOIC8-150]
AT24C64 [SOIC8-200]
AT24C64 [TSSOP8]
AT24C64A
AT24C64A [SOIC8-150]
AT24C64A [SOIC8-200]
AT24C64A [TSSOP8]
AT24C64B
AT24C64B [SOIC8]
AT24C64B [TSSOP8]
AT24C64C
AT24C64C [SOIC8]
AT24C64C [TSSOP8]
AT24C64D [SOIC8]
AT24C64D [TSSOP8]
AT24C128
AT24C128 [SOIC8-150]
AT24C128 [SOIC8-200]
AT24C128B
AT24C128B [SOIC8]
AT24C128B [TSSOP8]
AT24C128C [SOIC8]
AT24C128C [TSSOP8]
AT24C256
AT24C256 [SOIC8-150]
AT24C256 [SOIC8-200]
AT24C256B
AT24C256B [SOIC8-150]
AT24C256B [SOIC8-200]
AT24C256B [TSSOP8]
AT24C256C [SOIC8]
AT24C256C [TSSOP8]
AT24C512
AT24C512 [SOIC8-150]
AT24C512 [SOIC8-200]
AT24C512 [TSSOP8]
AT24C512B
AT24C512B [SOIC8-150]
AT24C512B [SOIC8-200]
AT24C512B [TSSOP8]
AT24C512C [SOIC8-150]
AT24C512C [SOIC8-200]
AT24C512C [TSSOP8]
AT24C1024
AT24C1024 [SOIC8]
AT24C1024B
AT24C1024B [SOIC8-150]
AT24C1024B [SOIC8-200]
AT24C1024B [TSSOP8]
AT24CM01 [SOIC8-150]
AT24CM01 [SOIC8-200]
AT24CM02 [SOIC8-150]
AT24CM02 [SOIC8-200]
AT24CS128
AT24CS128 [SOIC8-150]
AT24CS128 [SOIC8-200]
AT24CS128-1.8
AT24CS128-1.8 [SOIC8-150]
AT24CS128-1.8 [SOIC8-200]
AT24CS256
AT24CS256 [SOIC8-200]
AT24CS256-1.8
AT24CS256-1.8 [SOIC8]
AT24HC02B
AT24HC02B [SOIC8]
AT24HC02B [TSSOP8]
AT24HC04B
AT24HC04B [SOIC8]
AT24HC04B [TSSOP8]
AT24RF08C
AT24RF08C [SOIC8]
AT25010
AT25010 [SOIC8]
AT25010 [ISP]
AT25010A
AT25010A [SOIC8]
AT25010A [TSSOP8]
AT25010A [ISP]
AT25020
AT25020 [SOIC8]
AT25020 [ISP]
AT25020A
AT25020A [SOIC8]
AT25020A [TSSOP8]
AT25020A [ISP]
AT25040
AT25040 [SOIC8]
AT25040 [ISP]
AT25040A
AT25040A [SOIC8]
AT25040A [TSSOP8]
AT25040A [ISP]
AT25080
AT25080 [SOIC8]
AT25080 [ISP]
AT25080A
AT25080A [SOIC8]
AT25080A [TSSOP8]
AT25080A [ISP]
AT25080B [SOIC8]
AT25080B [TSSOP8]
AT25080B [ISP]
AT25160
AT25160 [SOIC8]
AT25160 [ISP]
AT25160A
AT25160A [SOIC8]
AT25160A [TSSOP8]
AT25160A [ISP]
AT25160B [SOIC8]
AT25160B [TSSOP8]
AT25160B [ISP]
AT25320
AT25320 [SOIC8]
AT25320 [ISP]
AT25320A
AT25320A [SOIC8]
AT25320A [TSSOP8]
AT25320A [ISP]
AT25320B [SOIC8]
AT25320B [TSSOP8]
AT25320B [ISP]
AT25640
AT25640 [SOIC8]
AT25640 [ISP]
AT25640A
AT25640A [SOIC8]
AT25640A [TSSOP8]
AT25640A [ISP]
AT25640B [SOIC8]
AT25640B [TSSOP8]
AT25640B [ISP]
AT25128
AT25128 [SOP8]
AT25128 [ISP]
AT25128A
AT25128A [SOIC8]
AT25128A [TSSOP8]
AT25128A [ISP]
AT25256
AT25256 [SOP8]
AT25256 [ISP]
AT25256A
AT25256A [SOP8]
AT25256A [TSSOP8]
AT25256A [ISP]
AT25DF041A [SOIC8-150]
AT25DF041A [SOIC8-200]
AT25DF161 [SOIC8-150]
AT25DF161 [SOIC8-208]
AT25DF321 [SOIC8]
AT25DF321A [SOIC8]
AT25F512 [SOIC8]
AT25F512A [SOIC8]
AT25F512B [SOIC8]
AT25F1024 [SOIC8]
AT25F1024A [SOIC8]
AT26DF041 [SOIC8]
AT26DF161 [SOIC8]
AT26DF161A [SOIC8-150]
AT26DF161A [SOIC8-200]
AT26DF321 [SOIC8]
AT26F004 [SOIC8-150]
AT26F004 [SOIC8-200]
AT26F004 [MLF8]
AT93C46(x8)
AT93C46(x8) [SOIC8]
AT93C46(x8) [TSSOP8]
AT93C46(x16)
AT93C46(x16) [SOIC8]
AT93C46(x16) [TSSOP8]
AT93C46A
AT93C46A [SOIC8]
AT93C46A [TSSOP]
AT93C46B
AT93C46B [SOIC8]
AT93C46C
AT93C46C [SOIC8]
AT93C46D(x8)
AT93C46D(x8) [SOIC8]
AT93C46D(x8) [TSSOP]
AT93C46D(x16)
AT93C46D(x16) [SOIC8]
AT93C46D(x16) [TSSOP]
AT93C46E
AT93C46E [SOIC8]
AT93C46E [TSSOP]
AT93C56(x8)
AT93C56(x8) [SOIC8]
AT93C56(x8) [TSSOP8]
AT93C56(x16)
AT93C56(x16) [SOIC8]
AT93C56(x16) [TSSOP8]
AT93C56A(x8)
AT93C56A(x8) [SOIC8]
AT93C56A(x8) [TSSOP8]
AT93C56A(x16)
AT93C56A(x16) [SOIC8]
AT93C56A(x16) [TSSOP8]
AT93C56B(x8) [SOIC8]
AT93C56B(x8) [TSSOP8]
AT93C56B(x16) [SOIC8]
AT93C56B(x16) [TSSOP8]
AT93C57(x8)
AT93C57(x8) [SOIC8]
AT93C57(x8) [TSSOP8]
AT93C57(x16)
AT93C57(x16) [SOIC8]
AT93C57(x16) [TSSOP8]
AT93C66(x8)
AT93C66(x8) [SOIC8]
AT93C66(x8) [TSSOP8]
AT93C66(x16)
AT93C66(x16) [SOIC8]
AT93C66(x16) [TSSOP8]
AT93C66A(x8) [SOIC8]
AT93C66A(x8) [TSSOP8]
AT93C66A(x16) [SOIC8]
AT93C66A(x16) [TSSOP8]
AT93C66B(x8) [SOIC8]
AT93C66B(x8) [TSSOP8]
AT93C66B(x16) [SOIC8]
AT93C66B(x16) [TSSOP8]
AT93C86(x8)
AT93C86(x8) [SOIC8]
AT93C86(x8) [TSSOP8]
AT93C86(x16)
AT93C86(x16) [SOIC8]
AT93C86(x16) [TSSOP8]
AT93C86A(x8)
AT93C86A(x8) [SOIC8]
AT93C86A(x8) [TSSOP8]
AT93C86A(x16)
AT93C86A(x16) [SOIC8]
AT93C86A(x16) [TSSOP8]
ATMEL [Serial FLASH]
AT25SF041 [SOIC8-150]
AT25SF041 [SOIC8-208]
AT25SF041 [DFN8 5*6]
AT25SF041 [DFN8 2*3]
AT25SF081 [SOIC8-150]
AT25SF081 [SOIC8-208]
AT25SF161 [SOIC8-150]
AT25SF161 [SOIC8-208]
AT25SF321 [SOIC8-150]
AT25SF321 [SOIC8-208]
Axelite [Serial EEPROM]
AX24C02A
AX24C02A [SOP8]
AX24C02A [TSSOP8]
AX24C04A
AX24C04A [SOP8]
AX24C04A [TSSOP8]
AX24C08A
AX24C08A [SOP8]
AX24C08A [TSSOP8]
AX24C16A
AX24C16A [SOP8]
AX24C16A [TSSOP8]
AX24C32A
AX24C32A [SOP8]
AX24C32A [TSSOP8]
AX24C64A
AX24C64A [SOP8]
AX24C64A [TSSOP8]
AX24C128A
AX24C128A [SOP8]
AX24C128A [TSSOP8]
AX24C256A
AX24C256A [SOP8]
AX24C256A [TSSOP8]
Belling [Serial EEPROM]
BL24C02
BL24C02 [SOP8]
BL24C02 [TSSOP8]
BL24C02A
BL24C02A [SOP8]
BL24C02A [TSSOP8]
BL24C04
BL24C04 [SOP8]
BL24C04 [TSSOP8]
BL24C04A
BL24C04A [SOP8]
BL24C04A [TSSOP8]
BL24C08
BL24C08 [SOP8]
BL24C08 [TSSOP8]
BL24C08A
BL24C08A [SOP8]
BL24C08A [TSSOP8]
BL24C16
BL24C16 [SOP8]
BL24C16 [TSSOP8]
BL24C16A
BL24C16A [SOP8]
BL24C16A [TSSOP8]
BL24C32
BL24C32 [SOP8]
BL24C32 [TSSOP8]
BL24C32A
BL24C32A [SOP8]
BL24C32A [TSSOP8]
BL24C64
BL24C64 [SOP8]
BL24C64 [TSSOP8]
BL24C64A
BL24C64A [SOP8]
BL24C64A [TSSOP8]
BL24C128
BL24C128 [SOP8]
BL24C128 [TSSOP8]
BL24C128A
BL24C128A [SOP8]
BL24C128A [TSSOP8]
BL24C256
BL24C256 [SOP8]
BL24C256 [TSSOP8]
BL24C256A
BL24C256A [SOP8]
BL24C256A [TSSOP8]
BL24C512A
BL24C512A [SOP8]
BL24C512A [TSSOP8]
BL93C46(x8)
BL93C46(x8) [SOP8]
BL93C46(x8) [TSSOP8]
BL93C46(x16)
BL93C46(x16) [SOP8]
BL93C46(x16) [TSSOP8]
BL93C56(x8)
BL93C56(x8) [SOP8]
BL93C56(x8) [TSSOP8]
BL93C56(x16)
BL93C56(x16) [SOP8]
BL93C56(x16) [TSSOP8]
BL93C66(x8)
BL93C66(x8) [SOP8]
BL93C66(x8) [TSSOP8]
BL93C66(x16)
BL93C66(x16) [SOP8]
BL93C66(x16) [TSSOP8]
BergMicro [Serial FLASH]
BG25Q512A [SOP8-150]
BG25Q512A [SOP8-208]
BG25Q10A [SOP8-150]
BG25Q10A [SOP8-208]
BG25Q20A
BG25Q20A [SOP8-150]
BG25Q20A [SOP8-208]
BG25Q40A
BG25Q40A [SOP8]
BG25Q80A
BG25Q80A [SOP8-150]
BG25Q80A [SOP8-208]
BG25Q16A
BG25Q16A [SOP8]
BG25Q32A [SOP8]
BJX [Serial EEPROM]
BJX24LC02
BJX24LC02 [SOIC8]
BJX24LC02 [TSSOP8]
BJX24LC04
BJX24LC04 [SOIC8]
BJX24LC04 [TSSOP8]
BJX24LC08
BJX24LC08 [SOIC8]
BJX24LC08 [TSSOP8]
BJX24LC16
BJX24LC16 [SOIC8]
BJX24LC16 [TSSOP8]
Bookly [Serial EEPROM]
24C02
24C02 [SOIC8]
24C02 [TSSOP8]
24C02 [MSOP8]
24C04
24C04 [SOIC8]
24C04 [TSSOP8]
24C04 [MSOP8]
24C08
24C08 [SOIC8]
24C08 [TSSOP8]
24C08 [MSOP8]
24C16
24C16 [SOIC8]
24C16 [TSSOP8]
24C16 [MSOP8]
24C32
24C32 [SOIC8]
24C32 [TSSOP8]
24C32 [MSOP8]
24C64
24C64 [SOIC8]
24C64 [TSSOP8]
24C64 [MSOP8]
Boya Microelectronics [Serial FLASH]
BY25D05AS [SOP8-150]
BY25D05AS [SOP8-208]
BY25D10AS [SOP8-150]
BY25D10AS [SOP8-208]
BY25D20AS [SOP8-150]
BY25D20AS [SOP8-208]
BY25D40AS [SOP8-150]
BY25D40AS [SOP8-208]
BY25D80AS [SOP8-150]
BY25D80AS [SOP8-208]
BY25D16AS [SOP8-150]
BY25D16AS [SOP8-208]
BY25Q512AS [SOP8-150]
BY25Q512AS [SOP8-208]
BY25Q10AS [SOP8-150]
BY25Q10AS [SOP8-208]
BY25Q20AS
BY25Q20AS [SOP8-150]
BY25Q20AS [SOP8-208]
BY25Q40AS
BY25Q40AS [SOP8]
BY25Q80AS
BY25Q80AS [SOP8-150]
BY25Q80AS [SOP8-208]
BY25Q16AS
BY25Q16AS [SOP8]
BY25Q32AS [SOP8]
BY25Q32BS [SOP8]
BY25Q64AS [SOP8]
Catalyst (CSI) [Serial EEPROM]
CAT24AA01 [SOIC8]
CAT24AA02 [SOIC8]
CAT24AA04 [SOIC8]
CAT24AA08 [SOIC8]
CAT24C03
CAT24C03 [SOIC8]
CAT24C03 [TSSOP8]
CAT24C05
CAT24C05 [SOIC8]
CAT24C05 [TSSOP8]
CAT24AC128
CAT24AC128 [SOIC8-150]
CAT24AC128 [SOIC8-200]
CAT24C00
CAT24C00 [SOIC8]
CAT24C00 [TSSOP8]
CAT24C01B
CAT24C01B [SOIC8]
CAT24C01B [TSSOP8]
CAT24C01B [MSOP8]
CAT24C16I
CAT24C16Z
CAT24C21
CAT24C21 [MSOP8]
CAT24C21 [SOIC8]
CAT24C21 [TSSOP8]
CAT24FC01
CAT24FC01 [SOIC8]
CAT24FC01 [TSSOP8]
CAT24FC01 [MSOP8]
CAT24FC02
CAT24FC02 [SOIC8]
CAT24FC02 [TSSOP8]
CAT24FC02 [MSOP8]
CAT24FC16
CAT24FC16 [SOIC8]
CAT24FC16 [TSSOP8]
CAT24FC16 [MSOP8]
CAT24FC17
CAT24FC17 [SOIC8]
CAT24FC17 [TSSOP8]
CAT24FC17 [MSOP8]
CAT24FC32
CAT24FC32 [SOIC8-150]
CAT24FC32 [SOIC8-200]
CAT24FC32 [TSSOP8]
CAT24FC32A
CAT24FC32A [SOIC8-150]
CAT24FC32A [SOIC8-200]
CAT24FC32A [TSSOP8]
CAT24FC64
CAT24FC64 [SOIC8-150]
CAT24FC64 [SOIC8-200]
CAT24FC64 [TSSOP8]
CAT24FC65
CAT24FC65 [SOIC8-150]
CAT24FC65 [SOIC8-200]
CAT24FC65 [TSSOP8]
CAT24FC66
CAT24FC66 [SOIC8-150]
CAT24FC66 [SOIC8-200]
CAT24FC66 [TSSOP8]
CAT24FC256
CAT24FC256 [SOIC8-150]
CAT24FC256 [SOIC8-200]
CAT24LC01
CAT24LC01 [SOIC8]
CAT24LC02
CAT24LC02 [SOIC8]
CAT24LC02Z
CAT24LC02A
CAT24LC02A [SOIC8]
CAT24LC02AZ
CAT24LC04
CAT24LC04 [SOIC8]
CAT24LC04Z
CAT24LC08
CAT24LC08 [SOIC8]
CAT24LC08Z
CAT24LC16
CAT24LC16 [SOIC8]
CAT24LC16Z
CAT24WC01
CAT24WC01 [SOIC8]
CAT24WC01 [TSSOP8]
CAT24WC01 [MSOP8]
CAT24WC02
CAT24WC02 [SOIC8]
CAT24WC02 [TSSOP8]
CAT24WC02 [MSOP8]
CAT24WC04
CAT24WC04 [SOIC8]
CAT24WC04 [TSSOP8]
CAT24WC04 [MSOP8]
CAT24WC08
CAT24WC08 [SOIC8]
CAT24WC08 [TSSOP8]
CAT24WC08 [MSOP8]
CAT24WC16
CAT24WC16 [SOIC8]
CAT24WC03
CAT24WC03 [SOIC8]
CAT24WC03 [TSSOP8]
CAT24WC03 [MSOP8]
CAT24WC05
CAT24WC05 [SOIC8]
CAT24WC05 [TSSOP8]
CAT24WC05 [MSOP8]
CAT24WC09
CAT24WC09 [SOIC8]
CAT24WC17
CAT24WC17 [SOIC8]
CAT24WC32
CAT24WC32 [SOIC8-150]
CAT24WC32 [SOIC8-200]
CAT24WC64
CAT24WC64 [SOIC8-150]
CAT24WC64 [SOIC8-200]
CAT24WC33
CAT24WC33 [SOIC8-150]
CAT24WC33 [SOIC8-200]
CAT24WC65
CAT24WC65 [SOIC8-150]
CAT24WC65 [SOIC8-200]
CAT24WC66
CAT24WC66 [SOIC8]
CAT24WC128
CAT24WC128 [SOIC8]
CAT24WC129
CAT24WC129 [SOIC8]
CAT24WC164
CAT24WC164 [SOIC8]
CAT24WC164 [TSSOP8]
CAT24WC164 [MSOP8]
CAT24WC256
CAT24WC256 [SOIC8]
CAT24WC257
CAT24WC257 [SOIC8]
CAT25C01
CAT25C01 [SOIC8]
CAT25C01 [TSSOP8]
CAT25C01 [ISP]
CAT25C02
CAT25C02 [SOIC8]
CAT25C02 [TSSOP8]
CAT25C02 [ISP]
CAT25C04
CAT25C04 [SOIC8]
CAT25C04 [TSSOP8]
CAT25C04 [ISP]
CAT25C08
CAT25C08 [SOIC8]
CAT25C08 [TSSOP8]
CAT25C08 [ISP]
CAT25C16
CAT25C16 [SOIC8]
CAT25C16 [TSSOP8]
CAT25C16 [ISP]
CAT25C32
CAT25C32 [SOIC8]
CAT25C32 [ISP]
CAT25C64
CAT25C64 [SOIC8]
CAT25C64 [ISP]
CAT25C33
CAT25C33 [SOIC8]
CAT25C33 [ISP]
CAT25C65
CAT25C65 [SOIC8]
CAT25C65 [ISP]
CAT25C128
CAT25C128 [SOIC8]
CAT25C128 [ISP]
CAT25C256
CAT25C256 [SOIC8]
CAT25C256 [ISP]
CAT25C11
CAT25C03
CAT25C05
CAT25C09
CAT25C17
CAT25C11 [SOIC8]
CAT25C03 [SOIC8]
CAT25C05 [SOIC8]
CAT25C09 [SOIC8]
CAT25C17 [SOIC8]
CAT25C11 [TSSOP8]
CAT25C03 [TSSOP8]
CAT25C05 [TSSOP8]
CAT25C09 [TSSOP8]
CAT25C17 [TSSOP8]
CAT25C11 [ISP]
CAT25C03 [ISP]
CAT25C05 [ISP]
CAT25C09 [ISP]
CAT25C17 [ISP]
CAT93C46R(x8)
CAT93C46R(x8) [SOIC8-150]
CAT93C46R(x8) [SOIC8-200]
CAT93C46R(x8) [TSSOP8]
CAT93C46R(x16)
CAT93C46R(x16) [SOIC8-150]
CAT93C46R(x16) [SOIC8-200]
CAT93C46R(x16) [TSSOP8]
CAT93HC46(x8)
CAT93HC46(x8) [MSOP8]
CAT93HC46(x8) [SOIC8-150]
CAT93HC46(x8) [TSSOP8]
CAT93HC46(x16)
CAT93HC46(x16) [MSOP8]
CAT93HC46(x16) [SOIC8-150]
CAT93HC46(x16) [TSSOP8]
CAT93C46(x8)
CAT93C46(x8) [SOIC8-150]
CAT93C46(x8) [SOIC8-200]
CAT93C46(x8) [TSSOP8]
CAT93C56(x8)
CAT93C56(x8) [SOIC8-150]
CAT93C56(x8) [SOIC8-200]
CAT93C56(x8) [TSSOP8]
CAT93C57(x8)
CAT93C57(x8) [SOIC8-150]
CAT93C57(x8) [SOIC8-200]
CAT93C57(x8) [TSSOP8]
CAT93C66(x8)
CAT93C66(x8) [SOIC8-150]
CAT93C66(x8) [SOIC8-200]
CAT93C66(x8) [TSSOP8]
CAT93C86(x8)
CAT93C86(x8) [SOIC8-150]
CAT93C86(x8) [SOIC8-200]
CAT93C86(x8) [TSSOP8]
CAT93C46(x16)
CAT93C46(x16) [SOIC8-150]
CAT93C46(x16) [SOIC8-200]
CAT93C46(x16) [TSSOP8]
CAT93C56(x16)
CAT93C56(x16) [SOIC8-150]
CAT93C56(x16) [SOIC8-200]
CAT93C56(x16) [TSSOP8]
CAT93C57(x16)
CAT93C57(x16) [SOIC8-150]
CAT93C57(x16) [SOIC8-200]
CAT93C57(x16) [TSSOP8]
CAT93C66(x16)
CAT93C66(x16) [SOIC8-150]
CAT93C66(x16) [SOIC8-200]
CAT93C66(x16) [TSSOP8]
CAT93C86(x16)
CAT93C86(x16) [SOIC8-150]
CAT93C86(x16) [SOIC8-200]
CAT93C86(x16) [TSSOP8]
CAT93C76(x8)
CAT93C76(x8) [SOIC8]
CAT93C76(x8) [TSSOP8]
CAT93C76(x16)
CAT93C76(x16) [SOIC8]
CAT93C76(x16) [TSSOP8]
CAT93C46A
CAT93C46A [SOIC8-150]
CAT93C46A [SOIC8-200]
CAT93C56A
CAT93C56A [SOIC8-150]
CAT93C56A [SOIC8-200]
CAT93C66A
CAT93C66A [SOIC8-150]
CAT93C66A [SOIC8-200]
CAT93C86A
CAT93C86A [SOIC8-150]
CAT93C86A [SOIC8-200]
CAT93C46AH
CAT93C46B(x8)
CAT93C46B(x8) [SOIC8-150]
CAT93C46B(x8) [SOIC8-200]
CAT93C46B(x16)
CAT93C46B(x16) [SOIC8-150]
CAT93C46B(x16) [SOIC8-200]
CAT93C46H(x8)
CAT93C46H(x16)
CBC Microelectr [Serial EEPROM]
MC24C02
MC24C02 [SOP8]
MC24C02 [TSSOP8]
MC24C08
MC24C08 [SOP8]
MC24C08 [TSSOP8]
MC24C16
MC24C16 [SOP8]
MC24C16 [TSSOP8]
MC24C32
MC24C32 [SOP8]
MC24C32 [TSSOP8]
MC24C64
MC24C64 [SOP8]
MC24C64 [TSSOP8]
MC24C128
MC24C128 [SOP8]
MC24C128 [TSSOP8]
MC24C256
MC24C256 [SOP8]
MC24C256 [TSSOP8]
MC24LC02
MC24LC02 [SOP8]
MC24LC02 [TSSOP8]
MC24LC04
MC24LC04 [SOP8]
MC24LC04 [TSSOP8]
MC24LC08
MC24LC08 [SOP8]
MC24LC08 [TSSOP8]
MC24LC16
MC24LC16 [SOP8]
MC24LC16 [TSSOP8]
MC93C46
MC93C56
MC93C66
MC93C46 [SOP8]
MC93C56 [SOP8]
MC93C66 [SOP8]
MC93C46 [TSSOP8]
MC93C56 [TSSOP8]
MC93C66 [TSSOP8]
MC93C46 [MSOP8]
MC93C56 [MSOP8]
MC93C66 [MSOP8]
Ceramate [Serial EEPROM]
24LC02
24LC02 [SOIC8]
24LC02 [TSSOP8]
24LC08
24LC08 [SOIC8]
24LC08 [TSSOP8]
24LC16
24LC16 [SOIC8]
24LC16 [TSSOP8]
24LLC02
24LLC02 [SOIC8]
24LLC02 [TSSOP8]
24LLC08
24LLC08 [SOIC8]
24LLC08 [TSSOP8]
24LLC16
24LLC16 [SOIC8]
24LLC16 [TSSOP8]
93LC46
93LC46 [SOP8]
Chingis [Serial FLASH]
Pm25LV512 [SOIC8]
Pm25LV512A [SOIC8]
Pm25LV512A [TSSOP8]
Pm25LV010 [SOIC8]
Pm25LV010A [SOIC8]
Pm25LV020 [SOIC8]
Pm25LV040
Pm25LV040 [SOIC8-150]
Pm25LV040 [SOIC8-208]
Pm25LV080B [SOIC8]
Pm25LV016B [SOIC8]
Pm25LD512 [SOIC8]
Pm25LD512 [WSON8]
Pm25LD512 [TSSOP8]
Pm25LD010 [SOIC8]
Pm25LD010 [WSON8]
Pm25LD010 [TSSOP8]
Pm25LD020 [SOIC8]
Pm25LD020 [WSON8]
Pm25LD020 [TSSOP8]
Pm25LD040
Pm25LD040 [SOIC8-150]
Pm25LD040 [SOIC8-208]
Pm25LD040 [WSON8]
Pm25LD256C [SOIC8]
Pm25LD256C [TSSOP8]
Pm25LD512C [SOIC8]
Pm25LD512C [WSON8]
Pm25LD512C [TSSOP8]
Pm25LD010C [SOIC8]
Pm25LD010C [WSON8]
Pm25LD010C [TSSOP8]
Pm25LD020C [SOIC8]
Pm25LD020C [WSON8]
Pm25LD020C [TSSOP8]
Pm25LD040C
Pm25LD040C [SOIC8-150]
Pm25LD040C [SOIC8-208]
Pm25LD040C [WSON8]
Pm25LQ512B [SOIC8]
Pm25LQ010B [SOIC8]
Pm25LQ020
Pm25LQ020 [SOIC8]
Pm25LQ020B [SOIC8]
Pm25LQ040
Pm25LQ040 [SOIC8]
Pm25LQ040B [SOIC8]
Pm25LQ080 [SOIC8-150]
Pm25LQ080 [SOIC8-208]
Pm25LQ080 [WSON8]
Pm25LQ016(new) [SOIC8-150]
Pm25LQ016(new) [SOIC8-208]
Pm25LQ016C
Pm25LQ016C [SOIC8]
Pm25LQ016C [WSON8]
Pm25LQ016C [SOIC16]
Pm25LQ032C
Pm25LQ032C [SOIC8]
Pm25LQ032C [WSON8]
Pm25LQ032C [SOIC16]
Chipswinner [Serial EEPROM]
CW24C02
CW24C02 [SOP8]
CW24C02 [TSSOP8]
CW24C02B
CW24C02B [SOP8]
CW24C02B [TSSOP8]
CW24C04
CW24C04 [SOP8]
CW24C04 [TSSOP8]
CW24C04A
CW24C04A [SOP8]
CW24C04A [TSSOP8]
CW24C08
CW24C08 [SOP8]
CW24C08 [TSSOP8]
CW24C08B
CW24C08B [SOP8]
CW24C08B [TSSOP8]
CW24C16
CW24C16 [SOP8]
CW24C16 [TSSOP8]
CW24C16A
CW24C16A [SOP8]
CW24C16A [TSSOP8]
CW24C32
CW24C32 [SOP8]
CW24C32 [TSSOP8]
CW24C32A [SOP8]
CW24C32A [TSSOP8]
CW24C64
CW24C64 [SOP8]
CW24C64 [TSSOP8]
CW24C64A [SOP8]
CW24C64A [TSSOP8]
CW24C128
CW24C128 [SOP8]
CW24C128A
CW24C128A [SOP8]
CW24C256
CW24C256 [SOP8]
CW24C512
CW24C512 [SOP8]
CKD Technology [Serial EEPROM]
CKD24A02
CKD24A02 [SOP8]
Coreriver [Serial EEPROM]
CR24C01
CR24C01 [SOIC8]
CR24C01 [TSSOP8]
CR24C02
CR24C02 [SOIC8]
CR24C02 [TSSOP8]
CR24C04
CR24C04 [SOIC8]
CR24C04 [TSSOP8]
CR24C08
CR24C08 [SOIC8]
CR24C08 [TSSOP8]
CR24C16
CR24C16 [SOIC8]
CR24C16 [TSSOP8]
CR24C32
CR24C32 [SOIC8]
CR24C32 [TSSOP8]
CR24C64
CR24C64 [SOIC8]
CR24C64 [TSSOP8]
CR24C128
CR24C128 [SOIC8]
CR24C128 [TSSOP8]
CR24C256
CR24C256 [SOIC8]
CR93C46(x8)
CR93C46(x8) [SOIC8]
CR93C46(x8) [TSSOP8]
CR93C56(x8)
CR93C56(x8) [SOIC8]
CR93C56(x8) [TSSOP8]
CR93C66(x8)
CR93C66(x8) [SOIC8]
CR93C66(x8) [TSSOP8]
CR93C76(x8)
CR93C76(x8) [SOIC8]
CR93C76(x8) [TSSOP8]
CR93C86(x8)
CR93C86(x8) [SOIC8]
CR93C46(x16)
CR93C46(x16) [SOIC8]
CR93C46(x16) [TSSOP8]
CR93C56(x16)
CR93C56(x16) [SOIC8]
CR93C56(x16) [TSSOP8]
CR93C66(x16)
CR93C66(x16) [SOIC8]
CR93C66(x16) [TSSOP8]
CR93C76(x16)
CR93C76(x16) [SOIC8]
CR93C76(x16) [TSSOP8]
CR93C86(x16)
CR93C86(x16) [SOIC8]
CYPRESS [Serial EEPROM]
CY24C01 [SOIC8]
CY24C01 [TSSOP8]
CY24C02 [SOIC8]
CY24C02 [TSSOP8]
CY24C04 [SOIC8]
CY24C04 [TSSOP8]
CY24C08 [SOIC8]
CY24C08 [TSSOP8]
CY24C16 [SOIC8]
CY24C16 [TSSOP8]
CY25C01 [SOIC8]
CY25C01 [TSSOP8]
CY25C02 [SOIC8]
CY25C02 [TSSOP8]
CY25C04 [SOIC8]
CY25C04 [TSSOP8]
CY25C08 [SOIC8]
CY25C08 [TSSOP8]
CY25C16 [SOIC8]
CY25C16 [TSSOP8]
CY93C01(x8) [SOIC8]
CY93C01(x8) [TSSOP8]
CY93C02(x8) [SOIC8]
CY93C02(x8) [TSSOP8]
CY93C04(x8) [SOIC8]
CY93C04(x8) [TSSOP8]
CY93C08(x8) [SOIC8]
CY93C08(x8) [TSSOP8]
CY93C16(x8) [SOIC8]
CY93C16(x8) [TSSOP8]
CY93C01(x16) [SOIC8]
CY93C01(x16) [TSSOP8]
CY93C02(x16) [SOIC8]
CY93C02(x16) [TSSOP8]
CY93C04(x16) [SOIC8]
CY93C04(x16) [TSSOP8]
CY93C08(x16) [SOIC8]
CY93C08(x16) [TSSOP8]
CY93C16(x16) [SOIC8]
CY93C16(x16) [TSSOP8]
FM24V01 [SOIC8]
FM24V01A [SOIC8]
FM24V02 [SOIC8]
FM24V02A [SOIC8]
FM24V05 [SOIC8]
FM24V10 [SOIC8]
FM24VN10 [SOIC8]
FM24W256 [SOIC8]
FM25V01 [SOIC8]
FM25V01A [SOIC8]
FM25V02 [SOIC8]
FM25V02A [SOIC8]
FM25V05 [SOIC8]
FM25V10 [SOIC8]
FM25V20 [SOIC8]
FM25V20A [SOIC8]
DOUQI [Serial FLASH]
DQ25Q64A [SOP8]
DQ25Q64A [WSON8]
DQ25Q64A [TFBGA24]
E-CMOS [Serial EEPROM]
EC24C02 [SOP8]
EC24C02 [TSSOP8]
EC24C04 [SOP8]
EC24C04 [TSSOP8]
EC24C08 [SOP8]
EC24C08 [TSSOP8]
EC24C16 [SOP8]
EC24C16 [TSSOP8]
EC24C02A [SOP8]
EC24C02A [TSSOP8]
EC24C04A [SOP8]
EC24C04A [TSSOP8]
EC24C08A [SOP8]
EC24C08A [TSSOP8]
EC24C16A [SOP8]
EC24C16A [TSSOP8]
EC24C32 [SOP8]
EC24C32 [TSSOP8]
EC24C64 [SOP8]
EC24C64 [TSSOP8]
EC24C32A [SOP8]
EC24C32A [TSSOP8]
EC24C64A [SOP8]
EC24C64A [TSSOP8]
EC24C128 [SOP8]
EC24C128 [TSSOP8]
EC24C128A [SOP8]
EC24C128A [TSSOP8]
EC24C256A [SOP8]
EC24C256A [TSSOP8]
EC93C46A(x8) [SOP8]
EC93C46A(x16) [SOP8]
EON(cFeon) [Serial FLASH]
EN25B05 [SOP8]
EN25B05 [ISP]
EN25B05T [SOP8]
EN25B05T [ISP]
EN25B10 [SOP8]
EN25B10 [ISP]
EN25B10T [SOP8]
EN25B10T [ISP]
EN25B20 [SOP8]
EN25B20 [ISP]
EN25B20T [SOP8]
EN25B20T [ISP]
EN25B40
EN25B40 [SOP8-150]
EN25B40 [SOP8-200]
EN25B40 [ISP]
EN25B40T
EN25B40T [SOP8-150]
EN25B40T [SOP8-200]
EN25B40T [ISP]
EN25B80
EN25B80 [SOP8]
EN25B80 [ISP]
EN25B80T
EN25B80T [SOP8]
EN25B80T [ISP]
EN25B16 [SOP8]
EN25B16 [ISP]
EN25B16T [SOP8]
EN25B16T [ISP]
EN25B32
EN25B32 [SOP8]
EN25B32 [ISP]
EN25B32T
EN25B32T [SOP8]
EN25B32T [ISP]
EN25B64 [SOP16]
EN25B64T [SOP16]
EN25D80
EN25D80 [SOP8]
EN25D80 [ISP]
EN25D16
EN25D16 [SOP8]
EN25D16 [ISP]
EN25F05 [SOP8]
EN25F05 [ISP]
EN25F05A [SOP8]
EN25F05A [VDFN8]
EN25F10 [SOP8]
EN25F10 [ISP]
EN25F10A [SOP8]
EN25F10A [VDFN8]
EN25F20 [SOP8]
EN25F20 [ISP]
EN25F20A [SOP8]
EN25F20A [VDFN8]
EN25F40
EN25F40 [SOP8-150]
EN25F40 [SOP8-200]