A load cell is a transducer that is used to convert a force into electrical signal. The most common use of this sensor is in weighing machine. Every weighing machine which shows weight has a loadcell as sensing element.
This conversion is indirect and happens in two stages. Through a mechanical arrangement, the force being sensed deforms a strain gauge. The strain gauge measures the deformation (strain) as an electrical signal, because the strain changes the effective electrical resistance of the wire. A load cell usually consists of four strain gauges in a Wheatstone bridge configuration. Load cells of one strain gauge (quarter bridge) or two strain gauges (half bridge) are also available.
The electrical signal output is typically in the order of a few millivolts and requires amplification by an instrumentation amplifier before it can be used. The output of the transducer is plugged into an algorithm to calculate the force applied to the transducer.
Load cells are used in several types of measuring instruments such as weighing scales, universal testing machines.
Wiring Identifier
The wiring of load cell consist of four wires (Plus one cable shielding, optional). The wires are as below. The RED/BLACK are usually given DC excitation voltage. While the GREEN/WHITE are taken as sensing output.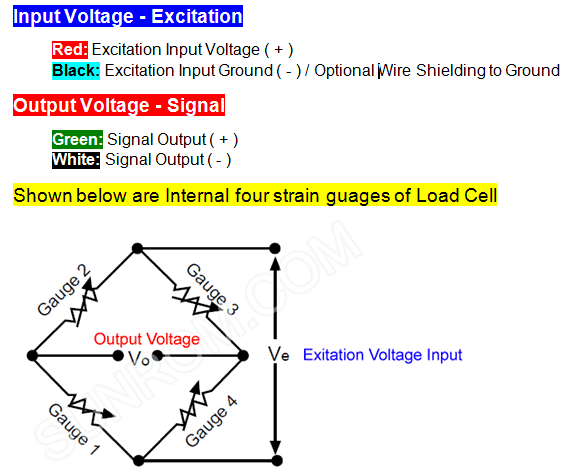 Specifications
| | |
| --- | --- |
| Parameter | Value |
| Type | Single Point Load Cell |
| Total Precision | C3 class |
| Material | Aluminum Alloy |
| Surface | Anodized Treatment |
| Protection | IP65 |
| Suggested Platform Size | 350 x 350 mm |
| Applications | Weighing Scales, Retail, Bench & Counting Scales |
| Rated Load | 40 Kg. Max |
| Rated Output | 2.0mV/V+/- 5% |
| Zero Balance | +/- 1% Full Scale |
| Input Resistance | 405 +/- 6 Ohm |
| Output Resistance | 350 +/- 3 Ohm |
| Excitation Voltage | 5-12V DC |
| Nonlinearity | 0.017% Full Scale |
| Hysteresis | 0.02% Full Scale |
| Repeatblity | 0.01% Full Scale |
| Creep(30min) | 0.015% Full Scale |
| Operating Temperature | -20 °C to +65 °C |
| Temperature Effect on Zero | 0.017% Full Scale / 10 °C |
| Temperature Effect on Span | 0.014% Full Scale / 10 °C |
| Insulation Resistance | 5000 Mega Ohm(50V DC) |
| Safe Overload | 150% Full Scale |
| Ultimate Overload | 200% Full Scale |
| Cable | 420mm(3mm dia 4 wire shielding cable) |
Dimensions