Please note, Unlike electromagnetic types which has coil, This buzzer does not contains internal driving circuit, so do not expect to just power on and hear something. It needs square wave of 4Khz to drive. The black case provides cavity for resonance and protection. You can vary its frequency to create tones just like you hear from microwave or washing machine.
When compared to low cost electromagnetic type buzzer this piezo consumes only 2-3mA, while coil type can take upto 100mA. Low current consumption makes it ideal for battery operation. While electromagnetic type is high on EMI, this piezo's emi noise is very neglible.
Buzzer Comparison
Parameter
Piezo Buzzer
This model
Other Electromagnetic Coil Type
Current
2-3mA
150-200mA
Moisture
Proof
Sensitive to moisture
Operation Life
Long, No moving parts
Coil heats and life is around 2 years
Operation Temp
High upto 150 deg C
approx 50 deg C
Noise
Does not emit
Emit high EMI noise over driving voltage
Technology
Piezo Vibration
Coil Oscillation
Frequency
Variable 1-10Khz
Fixed
You can use frequency from 1 Khz to 10 Khz but highest amplitude you will get around 4 Khz. Please see graph of frequency response above.
This is how we use it in our designs at Sunrom.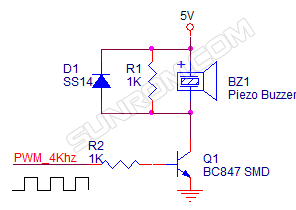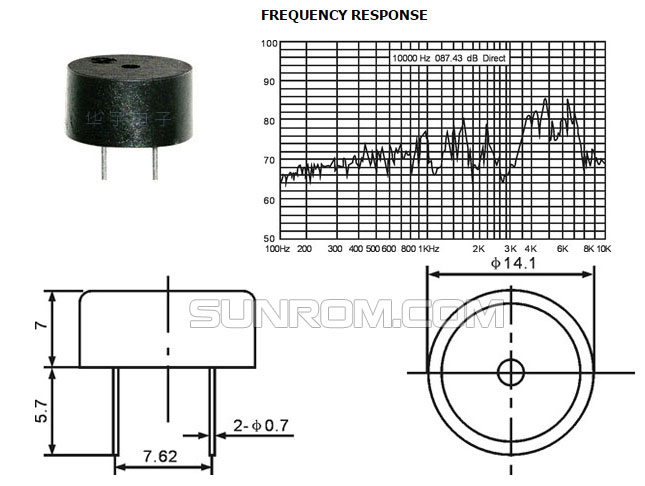 Specifications
| | | |
| --- | --- | --- |
| Type | Unit | Value |
| Operating Voltage | Vp-p | 3V-30V |
| *Rated Current(MAX) | mA | 2 |
| *Min Sound Output at 10 cm | dB | 80 |
| *Resonant Frequency | Hz | 4000±500 |
| Operating Temperature | ℃ | -50~+100 |
| Rated Voltage(Square Wave) | Vp-p | 12V |
| Weight | g | 1 |